Teaser Tuesdays is a weekly bookish meme, hosted by MizB of Should Be Reading. Anyone can play along! Just do the following:

• Grab your current read
• Open to a random page
• Share two (2) "teaser" sentences from somewhere on that page
• BE CAREFUL NOT TO INCLUDE SPOILERS! (make sure that what you share doesn't give too much away! You don't want to ruin the book for others!)
• Share the title & author, too, so that other TT participants can add the book to their TBR Lists if they like your teasers!

My Teaser: Resistance by C.J. Daugherty
She felt safe.

For just a second, she closed her eyes. It was so quiet and calm, the only sound the swish of the waves reaching the sand, and the sigh as the water returned to the sea. It was... perfect.

That was when the first shot split the air.

-- Resistance, page 3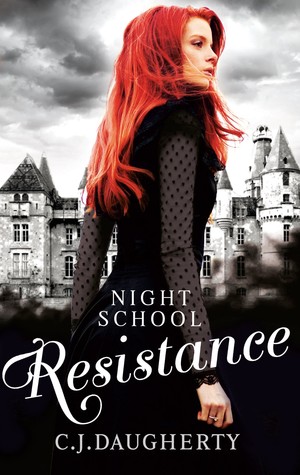 Title: Resistance by C.J. Daugherty
Series: Night School, #4

Finding refuge at a secret location in the south of France, Allie almost convinces herself she's safe - until Nathaniel's guards attack. Then she's on the run again, and forced to return to the one place she can truly call home: Cimmeria Academy.

But when she arrives, she barely recognises it. Tensions are on a knife edge. Now most of the students have deserted the school, the teachers can't be trusted and guards are in charge. Worse, Nathaniel is close - very close - to getting everything he wants.

Desperate to do something - anything! - to stop him, Allie agrees to accompany Lucinda on a dangerous late-night mission. But in doing so, is she putting her friends' lives at risk?

Carter and Sylvain are both ready to fight by her side - and prove their love. Allie knows she must make up her mind once and for all about who she really wants. No one will wait for ever.

The time for indecision is over. Everything is at stake and winner takes all...


-- As seen on Goodreads
What do you think? What book are you reading this week? Leave a link to your post so I can stop by, or tell us in the comments.