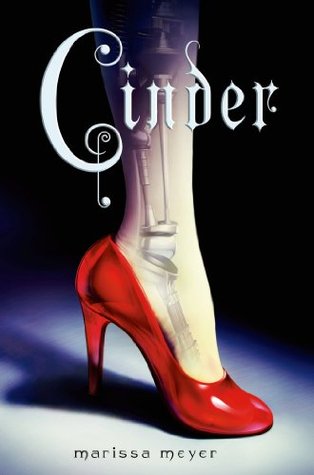 Title: Cinder
Author: Marissa Meyer
Series: The Lunar Chronicles, #1
Format: Paperback, owned
My rating: 4.5 / 5
Setting: New Beijing
Pages: 387

Humans and androids crowd the raucous streets of New Beijing. A deadly plague ravages the population. From space, a ruthless lunar people watch, waiting to make their move. No one knows that Earth's fate hinges on one girl. . . .

Cinder, a gifted mechanic, is a cyborg. She's a second-class citizen with a mysterious past, reviled by her stepmother and blamed for her stepsister's illness. But when her life becomes intertwined with the handsome Prince Kai's, she suddenly finds herself at the center of an intergalactic struggle, and a forbidden attraction. Caught between duty and freedom, loyalty and betrayal, she must uncover secrets about her past in order to protect her world's future.


-- As seen on Goodreads
My Thoughts
I've started writing up my review for Cinder so many times, and I keep struggling to put into words how much I loved this book! I had a rough idea what it was about before reading it: a Sci-fi retelling of Cinderella. I didn't realise just how amazingly well it works! There is so much hype surrounding The Lunar Chronicles, and as we all know, sometimes that hype can come back and kick you in the arse. Thank goodness that is not the case here! Cinder lived up to all my expectations, and all the hype surrounding it.
Cinderella was one of my favourite fairy tales when I was a child, and I watched the Disney movie a bazillion times. Sometimes retellings can hit a bit too close to the original, and if it's a favourite, it'll take one hell of a story to live up to it. Cinder was completely different to what I was expecting: I thought it was so much better! I loved that we can see the familiar threads from the original tale, but Cinder evolved into its own story and didn't use the original as a crutch.
In the past, sometimes I find books written in the third person prevented me from connecting with the characters as fully as I do with a first person POV. Cinder on the other hand, completely worked. I loved the writing style, and the pacing of the plot. Granted, I did predict quite a bit of the plot, but there were a few little unexpected surprises along the way which I didn't see coming. The only slight negative on this front could be in the world-building. I really liked what was shown, but I wanted more! So much thought has been put into this part of the story, and I wanted to experience all of that in even greater detail than what we got. As there are so many layers, I guess it could be a bit confusing keeping all the facts in the correct order, especially at the beginning when we are new to the story and the characters.
All the characterisations are excellently portrayed, in my opinion. Each character from the MC's to the secondary supporting characters and the so called villains were so vibrant and relatable. Cinder herself is such a fascinating character! She's smart, outspoken, opinionated, a gifted mechanic and 36.28% cyborg. I loved her character right from the start. And Iko! How could you not love that little android? I loved that the secondary characters actually supported and enhanced the story, rather than being present to represent certain characteristics superficially. From Prince Kaito, to Cinder's family, Adri, Pearl and Peony, and to Queen Levana to name a few, I could see their perspectives and understand why they did the things they chose to do.
I'm so glad I took the plunge and read Cinder. I can see why the books in The Lunar Chronicles feature on so many favourites lists. I didn't want the book to end, and I tried to read a bit slower when the pages were counting down. The awesome consolation I have is knowing there are three more books still to read in the series, and the characters I've met here will pop up again. Bring on Scarlet!