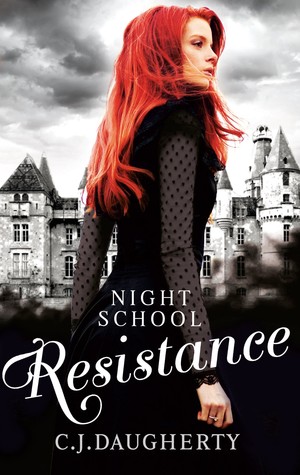 Title: Resistance
Author: C.J. Daugherty
Series: Night School, #4
Format: Paperback, owned
My rating: 5++ / 5
Easily my favourite book of 2014!
Setting: Cimmeria Academy, England
Pages: 387

Finding refuge at a secret location in the south of France, Allie almost convinces herself she's safe - until Nathaniel's guards attack. Then she's on the run again, and forced to return to the one place she can truly call home: Cimmeria Academy.

But when she arrives, she barely recognises it. Tensions are on a knife edge. Now most of the students have deserted the school, the teachers can't be trusted and guards are in charge. Worse, Nathaniel is close - very close - to getting everything he wants.

Desperate to do something - anything! - to stop him, Allie agrees to accompany Lucinda on a dangerous late-night mission. But in doing so, is she putting her friends' lives at risk?

Carter and Sylvain are both ready to fight by her side - and prove their love. Allie knows she must make up her mind once and for all about who she really wants. No one will wait for ever.

The time for indecision is over. Everything is at stake and winner takes all...


-- As seen on Goodreads
My Thoughts
Oh, wow! Just… WOW! I was absolutely speechless when I read the last page of Resistance. Everything about this book was phenomenal. EVERYTHING. I don't have one single complaint. NONE! This never happens! I'm so freaking happy right now! The three previous books I loved, but I thought there was some little thing missing. Whatever the heck that was, it appeared in Resistance with a vengeance! I KNEW the Night School series could end up being one of my favourite YA series of all time, and Resistance cemented it. As you can probably guess, this was my favourite book in the series. By a clear mile!
The atmosphere that was created right from the first pages was so tangible and vibrant, and it kept building throughout the entire book. The pace was perfect. I was on the edge of my seat, and I didn't relax for one second. Oh my goodness, I loved it! The tension was incredible! I felt every little thing that happened. The blurb doesn't lie when it says tensions are on a knife edge. I read Nevermore by Kelly Creagh earlier this year, and I didn't think anything could beat it in terms of atmosphere, but Resistance managed it. Where Nevermore is densely detailed, Resistance give us the freedom to let the imagination have some control: it plants the seed, and then the atmosphere keeps building on a different level.
I love all the characters in this series. They have been through so much up to now, with losses along the way and seeing them willing to keep going and do their best to fight on against the odds is amazing. I love seeing how much Allie Sheridan has grown. She's just as ballsy as I remembered. She has so much backbone, and never backs down from anything, yet she is open-minded enough to accept when she is in the wrong, and brave enough to apologise and eventually rectify a situation if she is mistaken. She has a great support network and awesome friends, and I feel in this book the secondary characters came into their own and shone. Every character has an inner strength and courage that shines through, and they have each other to lean on when needed. They know how determined Allie is, and they know how to handle her. They don't back-down, and they challenge her to improve and grow. I absolutely love this dynamic and their dialogue is so absorbing and entertaining.
And now for the two boys: Carter West and Sylvain Cassel. Now, I suppose this could be classed as a "love-triangle," but I shudder to even think this term in relation to this series. We've all read bad love-triangles and they leave an incurable scar. When they are done well, I think they can be very entertaining to read. The dynamic in Night School presents two male characters that are on equal footing in my eyes. Both Sylvain and Carter have lots of positive points, but equally balancing flaws. I could honestly see Allie happy with either one, in honesty. Carter, I suppose, is more of the "rebel" character, while Sylvain is pretty much "aristocracy", without the snotty attitude. Now, without giving anything away, the blurb hints at a choice being made. Yes, there has been a resolution. And no, I'm not going to tell you who wins! I have picked a side as well, but I'm not going to reveal my preference… well… OK! OK! If you've read the book, I might have yelled "YES!" on page 372… I think that's vague enough ;-D
I love Cimmeria Academy and the grounds. After four books, it's become so familiar and it's like a secondary character all by itself. From the library, the roof walks, the dining hall, the lake and the tree in the chapel graveyard. All of it has become so special. I love the way it's described, and the care put into the consistency between each book.
I have to mention the ending. I never saw it coming. Just when I think we get a nice reprise, and the book will end on a peaceful note, I honestly wasn't expecting another twist. Holy hell, my jaw was on the floor! This is one of my wonderfully descriptive notes that I jotted down after I finished reading. It kind of sums up my feelings perfectly, if incoherently! -- "Everything was so perfect, and then everything went BOOM again, and then NOOOOO, and then… I NEED THE NEXT BOOK!!!" -- Yep. This is what all my notes look like. It takes quite a bit of polishing to make any sense of them!
Very, very few books have made me feel and react so strongly when I was reading. Every one of those books ended up on my all-time favourite's shelf, and Resistance will be joining them. Resistance is easily my favourite book of 2014 so far, and not many books even come close. I loved every page and every word. Phenomenal!
The only downside? The really long wait, and the countdown until Endgame…