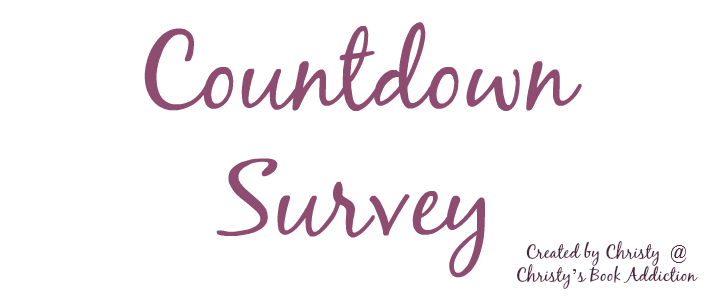 Christy @ Christy's Book Addiction created the Countdown Survey a few months back, and I absolutely love the idea! The concept is to choose bookish things to answer each of the questions, and the number of required answers count down from 10 to 1. Here goes!
10 Books Already Released on Your Wishlist
9 Favourite Covers
8 Not Yet Released Books That You Can't Wait For
7 auto-buy authors
Karina Halle

Marissa Meyer

Julie Kagawa

Susan Ee

C.J. Daugherty

Veronica Rossi

Cynthia Hand
6 Book Boyfriends
Dex Foray – Experiment in Terror

Tucker Avery – Unearthly

Roar – Under the Never Sky

Peeta Mellark– The Hunger Games

Varen Nethers – Nevermore

Daemon Black – Lux


5 Books You Recommend the Most
4 Books You Thought You'd Like But Didn't
3 Books That Made You Cry
2 Books You Never Plan on Reading
One is illegible, the other is recommended my sadists...


1 Favourite Genre at the Moment.
Is All-Zee-Books a genre? No?! Ok, then it'll be Fantasy!
Phew, I'm on a book cover high after that. It was so hard to choose only 9 favourites for question #9! What do you think of my choices and what books would you choose for each question?