We Were Liars by E. Lockhart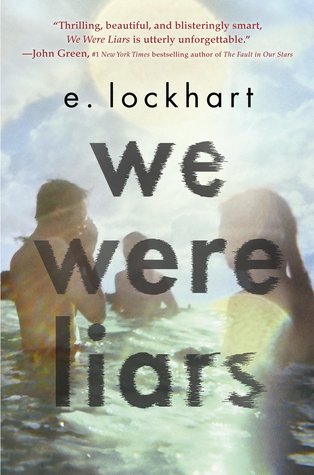 Title: We Were Liars
Author: E. Lockhart
Series: Standalone
Format: Kindle, owned
My rating: 3 / 5

A beautiful and distinguished family.
A private island.
A brilliant, damaged girl; a passionate, political boy.
A group of four friends—the Liars—whose friendship turns destructive.
A revolution. An accident. A secret.
Lies upon lies.
True love.
The truth.


We Were Liars is a modern, sophisticated suspense novel from National Book Award finalist and Printz Award honoree E. Lockhart.

Read it.
And if anyone asks you how it ends, just LIE.


-- As seen on Goodreads
My Thoughts
This is a tough review to write. Anything I could discuss would edge into unintentional spoiler territory, so I'm going to refrain from saying too much. The advice that's been floating around is 1000% correct: go into this book with as little prior knowledge as possible, it'll be a huge benefit. I had HUGE expectations for We Were Liars, but I think I was bitten by the dreaded hype bug. I enjoyed the book, but not nearly as much as I had expected to. The story itself is fascinating, and I was hooked very quickly and flew through the pages. While I love fast paced books, I think a lot of necessary detail was skimmed over here, making things seem a little more simplistic than they should have been. My biggest issue was the book lacked any sort of feeling. I wasn't attached to the characters, and any hiccups along the way didn't cause much of a reaction in me. I did enjoy We Were Liars overall, and I'd definitely recommend reading it, but when I consider the hype surrounding it, I was expecting so much more.
Ticker by Lisa Mantchev
Title: Ticker
Author: Lisa Mantchev
Series: Standalone
Format: eARC, kindly
provided by the publisher
via Netgalley (Thank you!!)
My rating: DNF

A girl with a clockwork heart must make every second count.

When Penny Farthing nearly dies, brilliant surgeon Calvin Warwick manages to implant a brass "Ticker" in her chest, transforming her into the first of the Augmented. But soon it's discovered that Warwick killed dozens of people as he strove to perfect another improved Ticker for Penny, and he's put on trial for mass murder.

On the last day of Warwick's trial, the Farthings' factory is bombed, Penny's parents disappear, and Penny and her brother, Nic, receive a ransom note demanding all of their Augmentation research if they want to see their parents again. Is someone trying to destroy the Farthings...or is the motive more sinister?

Desperate to reunite their family and rescue their research, Penny and her brother recruit fiery baker Violet Nesselrode, gentleman-about-town Sebastian Stirling, and Marcus Kingsley, a young army general who has his own reasons for wanting to lift the veil between this world and the next. Wagers are placed, friends are lost, romance stages an ambush, and time is running out for the girl with the clockwork heart.


-- As seen on Goodreads
My Thoughts
*I received an eARC from the publishers via Netgalley in exchange for an honest review. This didn't influence my opinion in any way.*
DNF @ 32%
I had started reading Ticker a couple of times since I downloaded it from Netgalley a while back, and I struggled to get into the story after the first few percent and I kept setting it aside, thinking it was just my mood not matching the story. So, I finally got in a steampunkish kind of mood recently, and I decided to just sit down and plough through. Unfortunately, I just couldn't do it. The characters felt very distant and sort of… unapproachable, if that makes sense. Also, I thought the steampunk elements were a little over the top. The continual mentions of machines and other gadgets didn't really set the atmosphere enough – it's one thing to be told something, it's a complete different thing to actually feel something and to believe it. I really like the concept of Ticker, but sadly I just couldn't get into the story.
How I Live Now by Meg Rosoff
Title: How I Live Now
Author: Meg Rosoff
Series: Standalone
Format: Paperback, owned
My rating: 4 / 5

"Every war has turning points and every person too."

Fifteen-year-old Daisy is sent from Manhattan to England to visit her aunt and cousins she's never met: three boys near her age, and their little sister. Her aunt goes away on business soon after Daisy arrives. The next day bombs go off as London is attacked and occupied by an unnamed enemy.

As power fails, and systems fail, the farm becomes more isolated. Despite the war, it's a kind of Eden, with no adults in charge and no rules, a place where Daisy's uncanny bond with her cousins grows into something rare and extraordinary.

But the war is everywhere, and Daisy and her cousins must lead each other into a world that is unknown in the scariest, most elemental way.


-- As seen on Goodreads
My Thoughts
I bought How I Live Now quite a while ago on a whim, and it's been sitting gathering dust on my to-read shelves ever since. It has been probably two years since I read the synopsis, and when I picked it up recently I was under the impression it would be a quick contemporary YA read. Well, I was right about the quick read part, but it was such a pleasant surprise to find it was a Dystopian. I swear, it was like a gift from the Gods!
The narrative and writing style did take a little getting used to, but once I settled in after a chapter or two, I really enjoyed it. With the way the story is written, it's very hard to feel anything toward all the other characters beyond Elizabeth (Daisy), the narrator. Daisy isn't the most likeable character in the world, but I couldn't help rooting for her and I ended up with a weird sort of grudging respect for her as the story unfolded. Right, I have to mention the cousin-on-cousin action. If you're not comfortable with underage-sex or even discussing incest/cousins-falling-in-love, then this book is probably best avoided. Personally, I've read other books that I thought handled the topic of incest better and in a more thought-provoking way. Having said that, I didn't have any real problems with the way Daisy and Edmund's relationship progressed (apart from it being a tad insta-lovey.) The survival portions of the book were by far my favourite themes. I loved how brutal, honest and compelling it was during this chunk of the book.
Overall, I really enjoyed How I Live Now, and I'd highly recommend giving it a chance. It looks at a very stark, dark and brutal battle for survival when your country is invaded and occupied by the enemy, and how the scars never leave. Brilliant.