Teaser Tuesdays is a weekly bookish meme, hosted by MizB of Should Be Reading. Anyone can play along! Just do the following:

• Grab your current read
• Open to a random page
• Share two (2) "teaser" sentences from somewhere on that page
• BE CAREFUL NOT TO INCLUDE SPOILERS! (make sure that what you share doesn't give too much away! You don't want to ruin the book for others!)
• Share the title & author, too, so that other TT participants can add the book to their TBR Lists if they like your teasers!

My Teaser: Unhinged by A.G. Howard
The flowers close in and push me toward him, rough, leafy hands scraping across my neck and cheeks, cinching my hair at the scalp so I can't lean away. He smiles, so close that I feel the heat of his breath on my face.

"I won't let you," I insist. "I won't let you into my world."

"Too little, too late," he murmurs against my humming skin. "By the time they find your body, I'll already be there."



-- Unhinged, page 38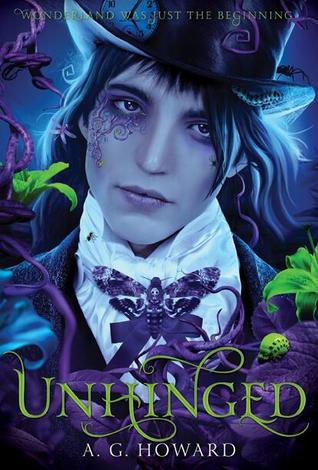 Title: Unhinged by A.G. Howard
Series: Splintered, #2
Genres: Fantasy, Retellings, Young Adult

Alyssa Gardner has been down the rabbit hole and faced the bandersnatch. She saved the life of Jeb, the guy she loves, and escaped the machinations of the disturbingly seductive Morpheus and the vindictive Queen Red. Now all she has to do is graduate high school and make it through prom so she can attend the prestigious art school in London she's always dreamed of.

That would be easier without her mother, freshly released from an asylum, acting overly protective and suspicious. And it would be much simpler if the mysterious Morpheus didn't show up for school one day to tempt her with another dangerous quest in the dark, challenging Wonderland—where she (partly) belongs.

As prom and graduation creep closer, Alyssa juggles Morpheus's unsettling presence in her real world with trying to tell Jeb the truth about a past he's forgotten. Glimpses of Wonderland start to bleed through her art and into her world in very disturbing ways, and Morpheus warns that Queen Red won't be far behind.

If Alyssa stays in the human realm, she could endanger Jeb, her parents, and everyone she loves. But if she steps through the rabbit hole again, she'll face a deadly battle that could cost more than just her head.



-- As seen on Goodreads
I'm loving Unhinged so much! I did mention in my Stacking post on Saturday past that I have a bunch of ARC's to read, and I was afraid I'd give into temptation when this little gem showed up in the post last week. Well, erm... *ahem* ... I gave in. I mean, once I opened the box and I glanced at the book, it screamed "Read me. Read me now!" How could I say no! Books I need to read? What books?! I don't remember any other books...
What do you think? What book are you reading this week? Leave a link to your post so I can stop by, or tell us in the comments. Happy Reading!