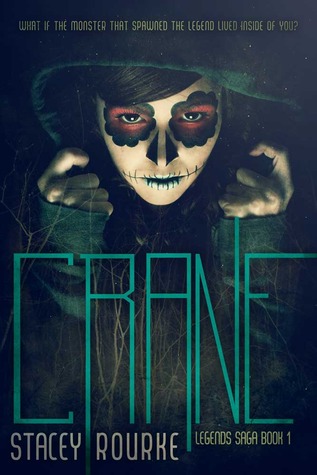 Title: Crane
Author: Stacey Rourke
Series: The Legends Saga, #1
Format: Kindle
My rating: 4.5 / 5
Setting: Sleepy Hollow
Pages: 221


The Horseman is unending,
his presence shan't lessen.
If you break the curse,
you become the legend.




Washington Irving and Rip Van Winkle had no choice but to cover up the deadly truth behind Ichabod Crane's disappearance. Centuries later, a Crane returns to Sleepy Hollow awakening macabre secrets once believed to be buried deep.

What if the monster that spawned the legend lived within you?

Now, Ireland Crane, reeling from a break-up and seeking a fresh start, must rely on the newly awakened Rip Van Winkle to discover the key to channeling the darkness swirling within her. Bodies are piling high and Ireland is the only one that can save Sleepy Hollow by embracing her own damning curse.

But is anyone truly safe when the Horseman rides?



-- As seen on Goodreads
My Thoughts
Crane was such a wonderful treat to read! I've been craving a good New Adult book that doesn't completely focus on a romance plot, and I think Crane is the perfect example of what I was looking for. Straight off, I highly recommend it to anyone who's a bit jaded from the same old NA plot lines. You're in for a treat!
The story is told in dual POV's – one in the past, featuring Ichabod Crane's narration, and one in the present, featuring Ireland Crane's narration – and they run parallel through the story. I liked the way both characters stories were told, and Ichabod's narration felt quite authentic to the era, and Ireland's felt appropriately modern. I haven't read the original Headless Horseman tale, but I'm kind of familiar with the overall concept. I imagine that Ichabod's story is fairly similar to the original tale, and for someone like me who doesn't know all the details, I really enjoyed his story. I definitely preferred Ireland's POV though, and that's what I'm going to concentrate on in my review.
"Sleepy Hollow welcomes you, Miss Crane."
A series of violent and bloody murders begin occurring shortly after Ireland moves to Sleepy Hollow. She wants a fresh start after a bad break-up, and she is hired as the new guidance counsellor in the local High School. She has to deal with the local students, some are obnoxious to say the least, and how they are coping with the string of murders occurring throughout town.
"I have enough credits to graduate and a scholarship to NYU. Do you think I could apply for early graduation in case I, ya know, don't make it out of this town alive?"
The locals aren't overly enthusiastic with a Crane descendant arriving in their town, and Ireland is viewed with some mistrust from the local police force. I really liked Ireland's character, and I enjoyed her witty, slightly ironic and self-depreciating humour in both her narration and dialogue with other characters. I liked the balance between the horror themes and the lighter, more humour filled moments in the story.
I loved the writing style, and the beautiful descriptions that added so much to the atmosphere! It's a very creepy read, and I can't go into much detail without spoiling the plot. Yeah, Crane is quite gory with lots of blood, stomach-churning and decapitating moments, and it's a pretty intense read. I don't think it's for the very squeamish, in honesty. While some bloody scenes aren't overly described in minute gory detail, you do get more than enough detail to turn your stomach once or twice! Just wanted to put that little warning out there… But, I really think it's the perfect Halloween read!
New Adult gets dealt a bad rap sometimes, and I'm so glad to see a book like Crane emerge! It has done what I was hoping the NA genre would do: It took the amazing Young Adult story-telling aspects that I love, and removes all the age constraints and restrictions associated with the age limit. I loved seeing the NA genre in its full potential, and Crane didn't take the easy route of using romance and sex to carry the plot. It allowed the story to speak for itself. Now, there is a little hint of romance here and there in Crane, but it definitely takes a back-seat in comparison to the main plot, and the horror elements.
While I could predict a few things that were going to happen, I ended up really enjoying the ending. I love how it sets up for the next book in the series, and I'll definitely be continuing on in the future. Oh, and can I also mention, I absolutely ADORE Crane's cover - I think it captures the atmosphere in the story perfectly. I highly recommend giving Crane a chance, it's definitely one of the best NA's I've read in a long, long time!