I'm so excited to be taking part in the Blog Tour for Loop, hosted by St Martin's Press! Loop is Karen Akins debut novel, and it was released on 21st October 2014 and it's been so hard to keep my fangirling in check until my tour stop date! I have a review for you today, hope you enjoy!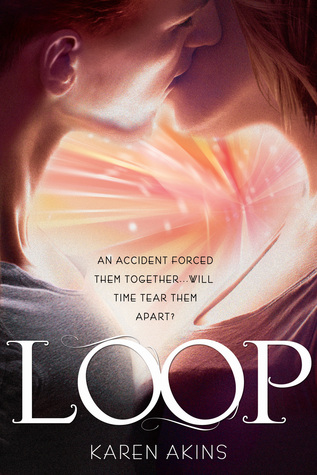 Title: Loop
Author: Karen Akins
Series: Loop, #1
Format: eARC, kindly provided by
St. Martin's Press. This didn't influence
my opinions in any way.
My rating: 4.5 / 5

At a school where Quantum Paradox 101 is a required course and history field trips are literal, sixteen year-old time traveler Bree Bennis excels…at screwing up.

After Bree botches a solo midterm to the 21st century by accidentally taking a boy hostage (a teensy snafu), she stands to lose her scholarship. But when Bree sneaks back to talk the kid into keeping his yap shut, she doesn't go back far enough. The boy, Finn, now three years older and hot as a solar flare, is convinced he's in love with Bree, or rather, a future version of her that doesn't think he's a complete pain in the arse. To make matters worse, she inadvertently transports him back to the 23rd century with her.

Once home, Bree discovers that a recent rash of accidents at her school are anything but accidental. Someone is attacking time travelers. As Bree and her temporal tagalong uncover seemingly unconnected clues—a broken bracelet, a missing data file, the art heist of the millennium—that lead to the person responsible, she alone has the knowledge to piece the puzzle together. Knowledge only one other person has. Her future self.

But when those closest to her become the next victims, Bree realizes the attacker is willing to do anything to stop her. In the past, present, or future.



-- As seen on Goodreads
My Thoughts
I loved Loop! I've had my eye on this book for a while now, and I'm so happy it lived up to my expectations. What did surprise me was the humour - I wasn't expecting it to be so FUNNY! Oh my goodness, I love when humour in books has that unplanned and unscripted feel about it. You know when you're having a conversation with someone, and all of a sudden something really funny just randomly pops out? That's exactly what it's like reading Loop. I would be reading away, and all of a sudden I'd end up bursting out laughing over something I read!
Bree is our main character, and straight away we can see she's going to be a sarcastically funny narrator. The book kicks off with Bree on a school assignment in the 21st century. In order to help cover the costs of mother's medical bills, she agrees to smuggle an object from the 23rd century back to the 21st century. Things don't exactly run smoothly, and she runs into a young teen, called Finn. When Bree returns home after traumatising the poor kid by taking him hostage, she realises she's made a mistake, and has to go back. Unfortunately she returns a few years too late, when Finn has grown up… and has fallen in love with Future Bree.
One of my favourite things about Loop was the dialogue, particularity between Finn and Bree. It didn't stay static throughout the book, it adapted to each scene and emotion that was happening between the characters. It has funny moments, flirty moments, serious moments and you-annoy-me-so-much-I'll-strangle-you moments – I loved it! For the most part, I really liked Bree. There were a couple of moments where I wanted to shake her, but overall I connected with her. She's very witty and funny character who always has a funny quip to make. She reads like a fairly typical teenage girl actually, and I enjoyed her narration throughout the book. Finn on the other hand, I loved! He's not there just to take the role of the love interest. There is a purpose behind his character that is slowly revealed throughout the book. He counters Bree's personality excellently. Bree has a tendency to get a little carried away, and is determined to plough ahead without thinking things through thoroughly, and Finn manages to keep her exuberance reigned when necessary, and gets her to question things she normally wouldn't do. I loved the way their relationship developed over the entire book, rather than being rushed right at the beginning. Finn has a history with Bree - or rather a Future Bree - but our Bree has next to no history with Finn. We actually get to see a bond and a relationship forming, certainly from Bree's perspective.
Loop is VERY fast paced! The mystery aspect twists and loops continually, and there is so much happening all the time! Sometimes you get the sense that if you blink, you'll miss something. Personally, I love fast paced plots and I didn't feel confused with any of the details given. I liked the way the time-travel aspect was handled. It's different than I was expecting – I can't go into too much detail as it'll spoil the story… The characters that travel back in time cannot change the past, and this gives a sense that everything that happens to the characters is already set in stone. In a way, there is a very slight dystopian feel to the book – certainly to the 23rd century half. Now, this is NOT a dystopian, but I think the slight familiarity helped me to click with the story very quickly.
I do think the ending fell away a little bit, certainly in comparison to the beginning. Funny enough, I really enjoyed the epilogue – and this is huge, as I normally hate epilogues! – Let's just say I did not want the book to end then! I can't wait until Twist is released, and I'm glad there isn't a full year wait time – that would be just plain cruel! Overall I loved Loop, but I think love for this book could depend on how you like your Sci-fi. If you like clinical, uber-realistic and scientific to the last dot Sci-fi… then it's probably not for you. But if, like me, you like humour and a healthy dose of fantasy with your Sci-fi, then I think you might like, or even love, Loop!