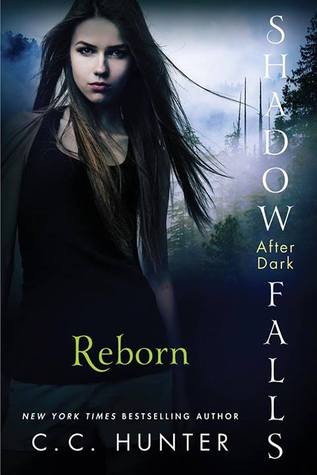 Title: Reborn
Author: C.C. Hunter
Series: Shadow Falls: After Dark, #1
Format: Kindle
My rating: 3 / 5

Return to the beloved world of Shadow Falls, a camp that teaches supernatural teens to harness their powers—and where a vampire named Della will discover who she's meant to be.

For Della Tsang, Shadow Falls isn't just a camp: it's home. As a vampire who's never fit in with her human family, it's the one place she can truly be herself. But when a mysterious new guy arrives at camp, Della's whole world is thrown into turmoil. Chase is a vampire with secrets, who knows more than he's telling. But the more time she spends with him, the more she begins to trust this attractive stranger—and feel drawn to him. But romance is the last thing she wants—as she keeps telling Steve, the hunky shapeshifter who won't stop trying to win her heart. And if Della isn't careful, he just might succeed.  When a new case puts everyone she cares about in danger, Della's determined to do everything she can to save them . . . even if it means teaming up with Steve and Chase, who leave her more confused than ever. With their lives on the line, will Della and her friends survive—with their hearts intact?



-- As seen on Goodreads
My Thoughts
Before I begin, I want to say that I haven't read the original Shadow Falls series. Reborn is the first book in a spin off series, and while I liked Reborn, I feel I missed out on so many little details that would have helped me connect with the book and characters better. Personally, I would strongly recommend reading the Shadow Falls series first.
When I started reading Reborn, I had no idea what happened in the original series. All the characters were completely new to me, as was the setting and all the history surrounding each supernatural type in the book. Oh how I wish I had read the original series first! Humm… how to describe how I feel… well, I feel like I was blind-folded, and lead into a cinema half-way through an unknown movie, and then all of a sudden the blindfold is removed and I'm trying to catch up with everything that's happened. I grasped the overall concept of the world building very quickly, but it's all the little things that I wanted to know - for example: what the heck does the "pattern" on each characters forehead look like?! And what does it do?! - that prevented me from fully enjoying Reborn as much as I could have.
In the first few chapters, characters pop up left and right and I wished I knew more about them. We do get little snippets of information here and there, but I didn't understand where the intricate bonds between certain characters developed from. I could see the bonds, but I didn't really feel much empathy or connection that I know I probably would have done if I got to know them over the course of the original series.
I'm a character focused reader, and when I don't click with the main narrator, I find it so much harder to love a book. I admire Della's tenacity, determination and resourcefulness. She's one tough girl, and on the surface she has all the qualities I usually love reading about in a main character. For me, I couldn't really connect with her thought process and narration. It felt like she was trying so hard to fit into the vampire mould, she forgot how to be a friend and a "normal" person/vampire. I don't understand how needing the support of those around her or receiving a hug from her best friend makes her feel weak.

"If she were just a little weaker, she would ask Kylie for a hug."
"As she started over to Jenny, Derek stepped beside her. "Be nice, could you?" he muttered.
Della scowled up. Lately, the fact that everyone seemed to think she was a rude bitch bothered her."
I suspect there is a story behind this aspect to her personality and to why she acts in the way she does. Or maybe it's all down to the illness? I'm not sure, but alas, I'm almost certain the original series will hold the answers to my questions.
It took a while for the action to kick off, and once it did I enjoyed it and craved more. Unfortunately the beginning set me up on the wrong footing and from my perspective, it left me feeling a bit disconnected from the characters and I'm left with more questions that I didn't find an answer for. Overall, I enjoyed the concept of the story, and I wish I could go back in time and read the original series first.