Teaser Tuesdays is a weekly bookish meme, hosted by MizB of Should Be Reading. Anyone can play along! Just do the following:

• Grab your current read
• Open to a random page
• Share two (2) "teaser" sentences from somewhere on that page
• BE CAREFUL NOT TO INCLUDE SPOILERS! (make sure that what you share doesn't give too much away! You don't want to ruin the book for others!)
• Share the title & author, too, so that other TT participants can add the book to their TBR Lists if they like your teasers!

My Teaser: Loop by Karen Akins
I'm only about 30% in, and I had so many potential teaser quotes to choose from already. I've gone with one right at the beginning – I hope you like it!
Hard to believe so much could ride on one trip back to the past.

Also hard to believe any person would name their child Muffy van Sloot. It almost sounded like some rich person's pet.

BOOM! The gunfire sounded right outside the alley.

So help me, I thought, if this is all for a dead cat, heads will roll.



-- Loop, Loc 54 – 2% (As this quote is from an uncorrected ARC, it might not match the finished book, or be in the same location.)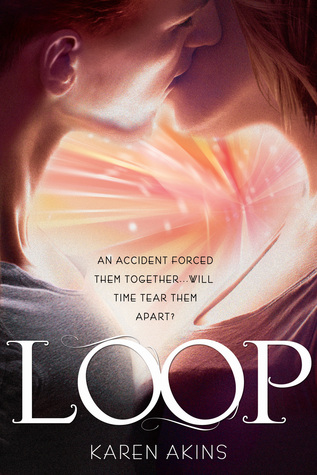 Title: Loop by Karen Akins
Series: Loop, #1

At a school where Quantum Paradox 101 is a required course and history field trips are literal, sixteen year-old time traveler Bree Bennis excels…at screwing up.

After Bree botches a solo midterm to the 21st century by accidentally taking a boy hostage (a teensy snafu), she stands to lose her scholarship. But when Bree sneaks back to talk the kid into keeping his yap shut, she doesn't go back far enough. The boy, Finn, now three years older and hot as a solar flare, is convinced he's in love with Bree, or rather, a future version of her that doesn't think he's a complete pain in the arse. To make matters worse, she inadvertently transports him back to the 23rd century with her.

Once home, Bree discovers that a recent rash of accidents at her school are anything but accidental. Someone is attacking time travelers. As Bree and her temporal tagalong uncover seemingly unconnected clues—a broken bracelet, a missing data file, the art heist of the millennium—that lead to the person responsible, she alone has the knowledge to piece the puzzle together. Knowledge only one other person has. Her future self.

But when those closest to her become the next victims, Bree realizes the attacker is willing to do anything to stop her. In the past, present, or future.



-- As seen on Goodreads
What do you think? What book are you reading this week? Leave a link to your post so I can stop by, or tell us in the comments.