The Sunday Post is a weekly meme hosted by Kimba @ Caffeinated Book Reviewer. It's a chance to share news, recap what has happened on the blog, what is upcoming and anything everything in between.
Re-Cap: September 1 - 20
No Book Buying In September
Back in the middle of August, I was looking at all the books I have in the house to read and I made one of those silly little resolutions that I thought would be really easy to keep - I wouldn't spend any money on books in September. For thirty days, my wallet will get a breather where books are concerned.
I don't really like the term "book buying ban" – that will definitely get the opposite reaction from me, and I'd end up getting ALL the books… A book buying hiatus sound a little better to me!
Well - this has been the hardest promise I have ever made! And it's not even a promise I made to someone else – just to me!
These are the culprits.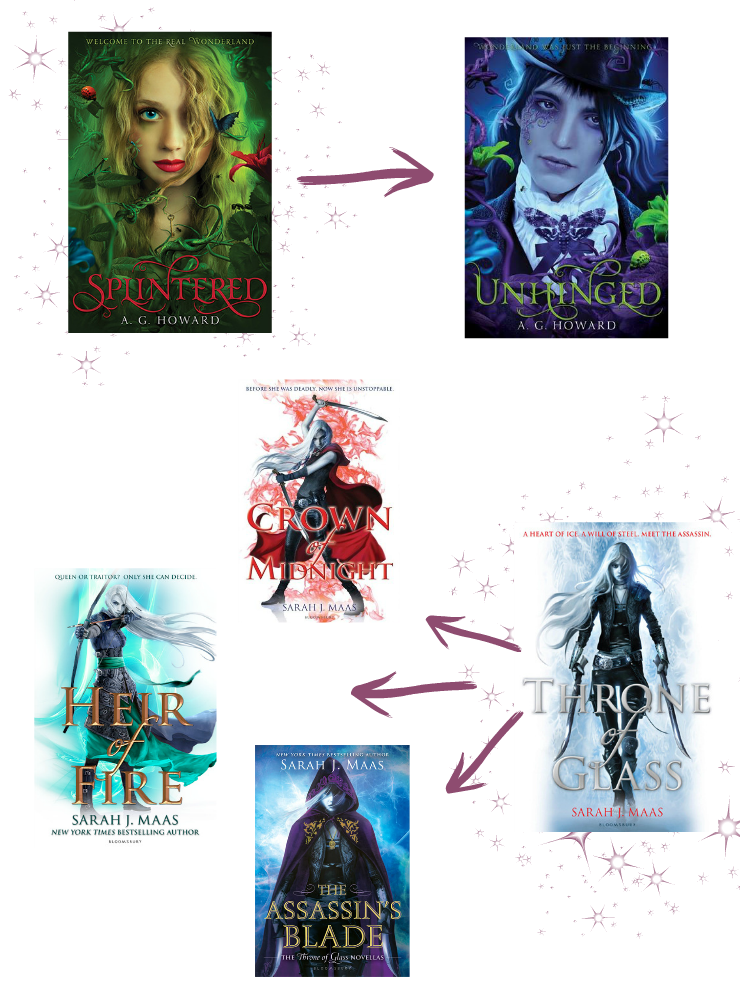 Since I made the promise, they have been haunting me, or more specifically, their sequels have. I loved both Throne of Glass and Splintered, and I've been so tempted to buy Crown of Midnight and Unhinged. I'm not usually this bad after I finish a book I love. I like giving a few weeks, or maybe a month, between books in the same series anyway, so it's a little frustrating that I can't let them go!
And on a completely random, weather related topic –
In my last Sunday Post, I mentioned that an Indian summer was forecast… it actually sort of happened! We've had beautiful weather the past couple of weeks. Ok, so maybe I should be a little more trusting in the forecasts in the future. Maybe. We'll see…
Some Posts on the Blog Recently
Discussions and Memes
Things I Wish I Knew When I Started Blogging
The Reading List That Never Shrinks
Ten Authors I've Only Read One Book From, But NEED To Read More
WoW – Very Bad Things by Susan McBride

Tags and Challenges
The To Be Read Tag
Ten Book Challenge Tag
September is for Sequels Challenge

Most Viewed Book Reviews
Review: Throne of Glass by Sarah J. Maas
Review: Splintered by A.G. Howard
Review: Rock Addiction by Nalini Singh
Review: Shadow and Bone by Leigh Bardugo

Posts I loved
Trish @ Between My Lives chatted about How Book Reviewing is like the X Factor a couple of weeks ago, and it's so true! LOL, how funny would it be to see Simon Cowell reviewing books…
I love Debby @ Snuggly Oranges Bookworm Problems posts and she chatted about Being A Book Buying Addict recently. (I can relate… STRONGLY!) She also asks whether it's Okay To Change Your Ratings Over Time? My feelings do, and have changed about certain books, and I often look back and think X, Y, and Z books don't deserve that rating… they're better/worse than that!
The Steadfast Reader talked about The Necessary Evil of the Negative Review. I might seem a bit weird, but if I'm unsure I'll like a book, I tend to glance at negative reviews first. When they are done well, I find they can give a clearer idea on what a book is really about, and whether it will suit my tastes.
I love haunting the Notebook Sisters blog, and Cait shared 28 Reasons Why Being a Bookworm Actually Sucks, (I nodded along, laughed, and agreed with all 28 points!) and their latest Honest YA Covers post. Seriously, if you haven't been to their blog, visit!
Vicky @ Books, Biscuits and Tea created an awesome post for book bloggers, with 100+ Links to Everything You Need to Know about book blogging. Definitely bookmark and share this one!
Kimberly @ Caffinated Book Reviewer chatted about Giveaways, and shared some awesome idea, tips and tricks for creating and hosting successful giveaways. Definitely another one to bookmark!
So... This Is Where I Say Goodbye
Temporarily! I haven't taken a complete break from blogging since I began at the end of February. The longest I've gone without writing a post or checking on things in some capacity was two consecutive days – so I kind of need a little break at this stage!

I have some posts and reviews scheduled this week, but I won't be here from tomorrow. (Monday 22 – 29 September.) It'll be incredibly weird staying away from the blog, but I feel I need to recharge my blogging batteries, have a break, go a few places and try to focus on other things for a bit.
So, until next Monday my lovely friends, slán go fóill and have a great week!
Soundtrack for the Week