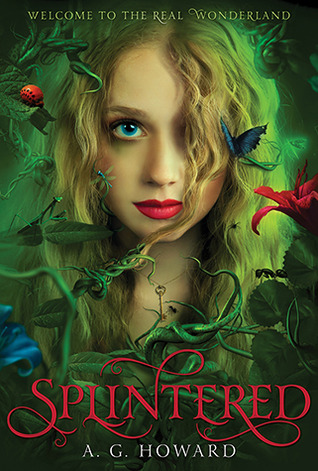 Title: Splintered
Author: A.G. Howard
Series: Splintered, #1
Format: Paperback, owned
My rating: 4.5 / 5
Pages: 377

Alyssa Gardner hears the whispers of bugs and flowers—precisely the affliction that landed her mother in a mental hospital years before. This family curse stretches back to her ancestor Alice Liddell, the real-life inspiration for Lewis Carroll's Alice's Adventures in Wonderland. Alyssa might be crazy, but she manages to keep it together. For now.

When her mother's mental health takes a turn for the worse, Alyssa learns that what she thought was fiction is based in terrifying reality. The real Wonderland is a place far darker and more twisted than Lewis Carroll ever let on. There, Alyssa must pass a series of tests, including draining an ocean of Alice's tears, waking the slumbering tea party, and subduing a vicious bandersnatch, to fix Alice's mistakes and save her family.

She must also decide whom to trust: Jeb, her gorgeous best friend and secret crush, or the sexy but suspicious Morpheus, her guide through Wonderland, who may have dark motives of his own.



-- As seen on Goodreads
My Thoughts
When the first two sentences of a book are -- "I've been collecting bugs since I was ten; it's the only way I can stop their whispers. Sticking a pin through the gut of an insect shuts it up pretty quick." -- I have a pretty good idea I'll love the story!
I'm failing to come up with one word to describe how I feel about Splintered, apart from 'love'. When I first looked at the cover, I was hoping that the story inside would live up to it. We all know never to judge a book by its cover, but for me, this is one of those rare times that it's completely safe to judge away! I was never the biggest fan of the original Alice in Wonderland tale: I guess I was more indifferent, rather than disliking it. I absolutely adored this version! I thought it was darker, more twisted and I loved it.
The first thing I have to comment about it the writing. I was absorbed straight away, and the words flow so effortlessly. Everything is so descriptive and lyrical, and it was extremely easy to imagine everything clearly. I loved the pacing. I wasn't bored at any stage, and while some of the plot was a bit predictable, it was done in a fun, quirky way and being able to see a few things coming along the way didn't bother me in the end.
And onto my favourite topic: the characters. Alyssa is our main character, and for the most part I liked her. My only problem was when she was willing to sit back and let Jeb save her. Thankfully this did change, and she showed her own strength and determination to save her own skin, and those around her. I connected with her at the beginning of the story, more than I did toward the end. Several sides of her personality are shown but I don't feel like I really 'know' her as a character just yet. It feels like I haven't seen the real Alyssa yet. But when I think about it, in fairness, she is finding out who she is right along with us.
And Morpheus. Oh, and Jeb. It's surprised me a little, but I really like both of them. I was sure I would like one and hate the other, but this wasn't the case. Yes, they both have their positives and negatives, but in their own ways, they care for and are loyal to Alyssa, and have her best interests at heart. First of all: Jeb. I liked him at the beginning of the story, but I have two problems with him that I can't really shake off: He overlooks Alyssa's opinions and judgements, and is so over protective, it felt smothering. I guess Morpheus doesn't really have a whole lot going for him. He's sneaky, conniving and manipulative but he has one very big quality that I love seeing: he respects and trusts Alyssa to figure out things by herself. He encourages Alyssa to be strong on her own and is there for her when she needs him, but will take a step back as he knows she can handle herself. I feel like Jeb would stand in front of Alyssa, blocking her way to shield and protect her, while Morpheus would be by Alyssa's side, fighting alongside her. Look, I like Jeb and if that's the way the story progresses, I'll be sort of happy, but… there's something about Morpheus…
I feel like the plot has split in two - one half has progressed and the other has gone back to the beginning. While this story was wrapped up without any main threads left unfinished, we are left with a few crumbs for the sequel. I had a pretty good idea I'd love Splintered, and I'm so glad it lived up to and exceeded my expectations. I can't wait to read Unhinged and see how the story progresses! I think I might hesitantly say... Team Morpheus?