I wrote a post at the end of July saying I wanted to start chipping away at books that have been sitting on my to-read shelf for a long time, and my plans were to try and fit a few of them in my each month. When I wrote up the post, I overlooked that August happened to bring three new books I wanted to read – Resistance, Opposition and Dust to Dust – right to my post box and Kindle App.
Oh, and a mini-avalanche of new books, NetGalley approvals and review requests.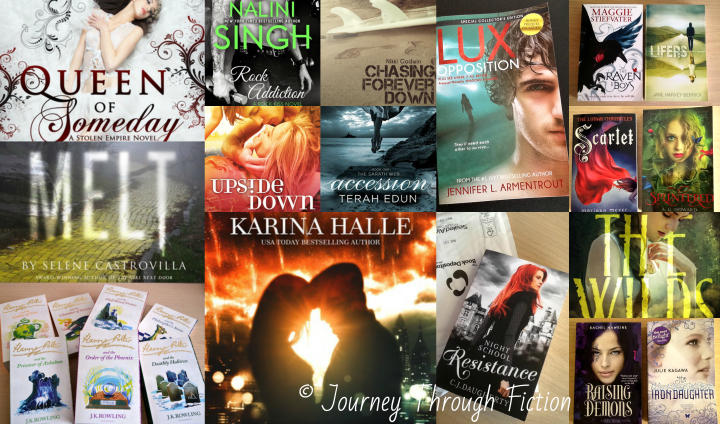 Good to see my book buying addiction and my inability to overlook the new, shiny books on my shelf is as strong as ever!
Sadly, I didn't read all 5 books I said I would. The three new arrivals took over right at the start of the month, and I struggled to get back on track. I read Throne of Glass which I LOVED, but My Soul to Take was sort of middling on my rating scale. I started reading Breakable – but only the first chapter. I wasn't captivated at all, and I think I'm going to put it aside for a while. I'm absolutely terrified it'll ruin my memories of Easy, and change my opinions of Lucas. City of Ashes and Seraphina didn't appeal to me as much once my new books arrived. Having Splintered, Scarlet and The Iron Daughter waiting to be read is extremely distracting!
My ARC/review request list has gone a bit manic, and I intend to keep chipping away at it throughout the month. I find a balance of 2 or 3 of my own reads to one galley/request works best for my motivation levels. I do feel guilty when I push those books aside, but I know I won't be in a good frame of mind to give my honest opinion if I'm pining away wanting to read a book that I bought!
This month, I'm determined to conquer these books in September. I know I'm going to be a lost cause until I read them as it's been torture walking by these pretties the past two weeks!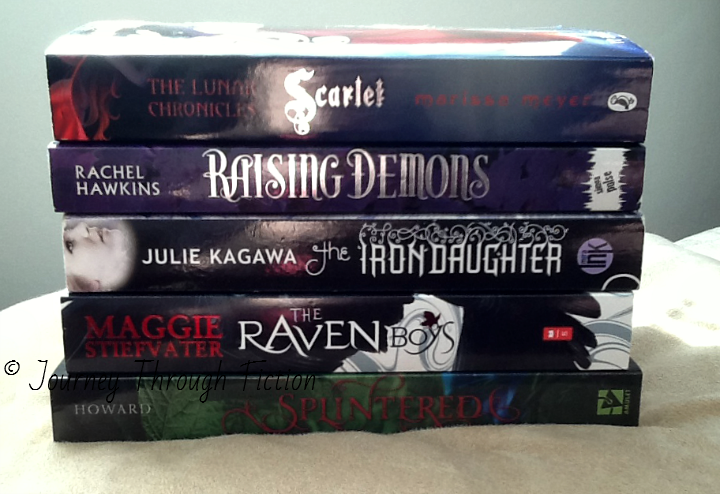 At the beginning of each year, I tend to start lots of new series and trilogies, and by the time the autumn rolls around, I end up wanting to read about those characters again! I saw that Monique @ Mo_Books signed up for a September challenge recently – the September is for Sequels Challenge hosted by Lisa @ Lisa Loves Literature – and this was perfect timing! I have so many series I want to catch up on, and this challenge is the perfect opportunity to catching up on those books.
Raising Demons (or Demonglass), The Iron Daughter and Scarlet will be three of the four books I'll read and review for the challenge, then I'll let my mood determine what the fourth book will be. Off the top of my head, I have Until I Die, The Scorch Trials and City of Ashes on my shelves waiting to be read, so most likely it'll be one of them.
What books are you planning on reading in September? Do you find challenges help to keep you focused on your reading goals?