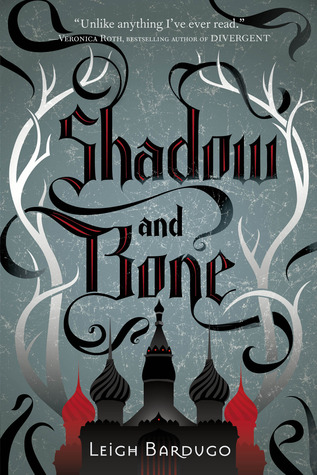 Title: Shadow and Bone
Author: Leigh Bardugo
Series: The Grisha, #1
Format: Kindle
My rating: 3 / 5
Pages: 320

The Shadow Fold, a swathe of impenetrable darkness, crawling with monsters that feast on human flesh, is slowly destroying the once-great nation of Ravka.

Alina, a pale, lonely orphan, discovers a unique power that thrusts her into the lavish world of the kingdom's magical elite—the Grisha. Could she be the key to unravelling the dark fabric of the Shadow Fold and setting Ravka free?

The Darkling, a creature of seductive charm and terrifying power, leader of the Grisha. If Alina is to fulfil her destiny, she must discover how to unlock her gift and face up to her dangerous attraction to him.

But what of Mal, Alina's childhood best friend? As Alina contemplates her dazzling new future, why can't she ever quite forget him?

Glorious. Epic. Irresistible. Romance.



-- As seen on Goodreads
My Thoughts
When I began reading Shadow and Bone, I was drawn into the story straight away. It was action packed and engaging, and for the first 20-30%, I was sure I'd found another awesome read. When the story progressed and was set within the Little Palace in Os Alta, I rapidly lost interest. All the uniqueness was gone, and it felt like countless other books that are set in an opulent "academy" or "school" environment that's combined with the governing court of the land.
Shadow and Bone wasn't all doom and gloom. I really enjoyed the writing style. It was absorbing and flowed so easily. This was what managed to keep my attention throughout the middle of the book, when the characters were grating on my last nerve. This is a pretty rare situation for me. Usually when I dislike the characters, there isn't much left for me to be interested in and hold out hope that the book will get better. I liked the world building when it was set far away from Os Alta. When the story was set in the city, the way the court/school life was portrayed was very disappointing. I was expecting layers similar to Grave Mercy, but it didn't even come close. It was superficial, and was primarily used to introduce the Grisha hierarchy and to reinforce how vain Alina was.
And thinking of Alina, I didn't connect with her at any stage during the book. She is our narrator, and I really disliked seeing her thought process. It was so frustrating and made no sense to me! For an orphan who grew up and went into the army, I thought she was too naïve and trusting. The biggest stumbling point I had was her vanity, and constantly comparing herself to other Grisha, and how beautiful they are, and how ugly she is, and how Mal will never notice her if she isn't beautiful and AAARGGHH! Reading this throughout the entire book kept grating on my nerves, and it wasn't until the last 10% that I began to see signs of an interesting character emerging. It's a shame it took so long. The only character that I found fascinating was the Darkling. I thought he was such a complex and interesting character and I wanted to see more of his presence throughout the book.
I can't say I loved the book, and I definitely can't say it was just ok – it hovers somewhere in between. Around the 70% mark, I knew the ending would either make or break my overall opinion, and thankfully, I thought the ending was really good! The ending has left me really curious about the rest of the series, and I'll continue on at some stage. I just wish the middle was just as entertaining and absorbing as the start and conclusion.