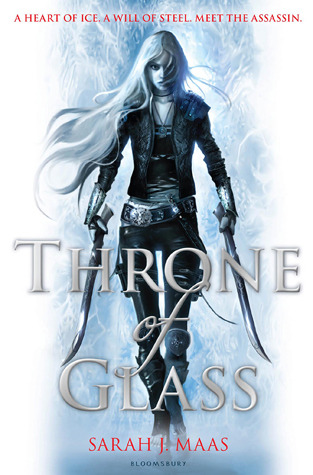 Title: Throne of Glass
Author: Sarah J. Maas
Series: Throne of Glass, #1
Format: Paperback, owned
My rating: 5 / 5
Pages: 404

Meet Celaena Sardothien.
Beautiful. Deadly. Destined for greatness.

In the dark, filthy salt mines of Endovier, an eighteen-year-old girl is serving a life sentence. She is a trained assassin, the best of her kind, but she made a fatal mistake: she got caught.

Young Captain Westfall offers her a deal: her freedom in return for one huge sacrifice. Celaena must represent the prince in a to-the-death tournament—fighting the most gifted thieves and assassins in the land. Live or die, Celaena will be free. Win or lose, she is about to discover her true destiny. But will her assassin's heart be melted?



-- As seen on Goodreads
My Thoughts
I was a little apprehensive when I started Throne of Glass. I'd seen so much praise and love for both the book and the characters, I was afraid I would be disappointed and my expectations would be too high. Thankfully this wasn't the case – I absolutely loved Throne of Glass! For me, the characters were the main highlight of the book. I loved the way they interacted with each other, and I really liked that all their relationships were built up over the course of the book, rather than being rushed right at the beginning. To me, this made each relationship and their individual dynamic much more believable.
Celaena Sardothien is an assassin and our heroine in Throne of Glass, and I absolutely loved her! She is such a strong character, with a girly, flirty, manipulative air. It was so nice to see that her femininity wasn't sacrificed for a more masculine depiction of strength and power. She's a girly-girl assassin, and it makes such a nice change from the usual cold, aloof "I need to suppress my femininity and all emotion just to be taken seriously as a strong and powerful woman" approach. Celaena wouldn't think twice about decapitating you or cutting your heart out, but this doesn't completely define her personality, and she has a softer side that balances her character in a way I found so believable and appealing. Plus, she's a bookworm and protects animals – lots of brownie points for these traits. Her reaction when she found the castle's library with a million books was priceless! She has her flaws and being hot-headed is the main one, but for me, this added to how humorous she is in her interactions with the other characters, and I found it so entertaining to read.
We meet Captain of the Guard Chaol Westfall right at the beginning of the story, with Crown Prince Dorian Havilliard following closely after, and I adored both Chaol and Dorian. I loved seeing how their personalities differed, yet both were depicted in a believable way that left me liking both characters (almost) equally. Chaol is the quiet one out of the two, and he's used to taking the back seat to Dorian, knowing that the Prince will be preferred over him. He's cold and very aloof toward Celaena at the beginning, and it was lovely to see him mellow quite a bit over the course of the book as their relationship grew. I loved getting to see the caring and loyal side to his personality, which he kept hidden under all the sarcasm and teasing. I never had a problem with Dorian at any stage. He's likeable, and much more outgoing than Chaol. He's the confident one, always cracking a joke and knowing what to say at the right moments. I really liked seeing that he has a depth to his personality, and he wants to make a difference and can see the fault in his father's ways. There isn't anything terribly dislikeable about Dorian – I just love Chaol so much more!
Usually when there is a lot of POV switching, I find myself disconnected from the characters and the storyline, but thankfully, that never occurred here at any stage. For me, seeing things from other characters perspectives really helped to round out the story and give a clearer picture of each of their personalities. The third person narrative is another thing that I sometimes find difficult to fully connect with. I was so happy that I connected with all the characters just as well as I would have done with a first person narrative – so this is a huge plus for me!
I would have loved to learn more about Erilea, and how all the places on the map at the beginning of the book relate to each other. This reminds me a little of my feelings after reading Cinder: everything that was in the story was great, but I want to know more! We get to see a certain amount of the continents history and the world building in general, but I just feel like if a bit more information was given, it would have added so much to the overall impression I'm left with. For the greater portion of the book, it is set in Rifthold Castle and I would have liked to know more a bit more about the ins and outs of castle life. I feel like I'm familiar with the structure, but I don't know any of the finer details about the place.
I loved the writing style, and I found it so easy to get lost in the story and not want to put the book down. I will warn that the blurb is slightly misleading in regard to the "to-the-death" tournament part. As this dominated the blurb, I thought it would dominate most of the story as well, and I was left wondering when the to-the-death tournament would begin. (Good Lord, that sounds so bloodthirsty… but you know what I mean!) I feel the mystery surrounding the other champions, along with the main characters themselves overshadowed this element of the book more than I was expecting. If I'm honest, none of this really affected my overall opinion of the book: I loved Throne of Glass. It captured my interest right from the start and refused to let go. I loved all the characters, and I only wish I had a copy of Crown of Midnight so I could continue on with the series straight away!