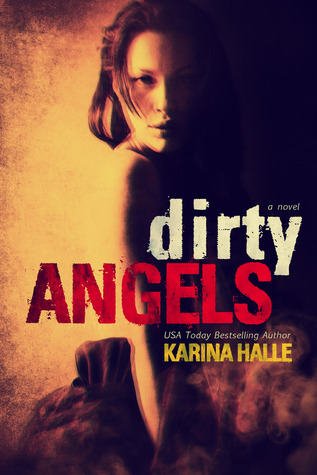 Title: Dirty Angels
Author: Karina Halle
Series: Dirty Angels, #1
Format: Kindle
My rating: 4.5 / 5
Setting: Mexico
Pages: 309

**warning: this book contains situations which might be triggers for some people. Please see the bottom of this description to see if this is the kind of book that you'll love or piss you off**

For Luisa Chavez, a twenty-three year old former beauty queen, a better life has always been just out of her reach. Sure, she's had men at her feet since she was a young teenager but she's never had the one thing she's craved – security. Having grown up in near poverty, her waitressing job in Cabo San Lucas can barely let her take care of herself, let alone her ailing parents. Every day is another unwanted advance, every day is a struggle to survive.

When Salvador Reyes, the depraved leader of a major Mexican cartel, takes an interest in her, Luisa is presented with an opportunity she can't afford to pass up. She'll become Salvador's wife and exchange her freedom and body for a life of riches – riches she can bestow upon her deserving parents. But Luisa quickly finds out that even the finest wines and jewels can't undo the ugliness in her marriage, nor the never-ending violence that threatens her every move.

Soon, Luisa is looking for an escape, a way out of the carefully controlled life she's leading. She finally gets her wish in the worst way possible.

As it is, being the wife of Salvador makes her an ideal target for rival cartels and there's one particular man who needs Luisa as part of his cartel's expansion. One particular man whose quest for power has destroyed lives, slit throats and gotten him out of an American prison. One particular man who will stop at nothing until he gets what he wants.

That man is Javier Bernal. And he wants Luisa. He wants to take her, keep her, ruin her.

Unless she ruins him first.

***While this is a spin-off of The Artists Trilogy, prior knowledge of the books is not needed. DIRTY ANGELS is the first in a trilogy, however each book can standalone and follows or introduces different characters***


-- As seen on Goodreads
My Thoughts
Well, Javier is just as twisted as I remembered! Take the warnings seriously, I definitely don't think this book will be suitable for the squeamish, or anyone reluctant to read the themes mentioned in the blurb. I do think the blurb sums up the story perfectly, so I'm not going to summarise it again.
I loved The Artist's Trilogy, and while I always preferred Camden, Javier was one of those characters that stuck with me, and I was so curious about him. He was always the enigma slightly on the outside of that story, and when I saw he was getting his own book, I knew I'd jump at the chance to see inside his head.
I would strongly recommend reading all the books in The Artist's Trilogy, including On Every Street, before starting Dirty Angels. I feel it's a necessity to be able to fully appreciate Javier's personality. He is one of the most complex characters I have ever read about. He has so many layers, and seeing him go from his most deranged, to kind of sweet and then back again is one heck of a mind-fuck! He isn't a nice guy - never has been - but there is a thread of vulnerability and compassion just below the surface that draws you in and made me root for him in Dirty Angels. For me, he is the prefect representation of someone you love to hate, or hate that you love!
I hate to say, but Luisa faded into the background quite a bit. Javier's personality is just that strong, he completely dominated the book. I will say, she turns out to be every bit as twisted as Javier, and from that respect, she is the perfect match for him. She had to accept the ways of Mexican drug cartels extremely quickly in order to survive her marriage. I can't help but feel it was slightly too convenient at times. It's strange; she is the only character Halle has created that I didn't fully click with. I could sympathise with her, but I didn't fully empathise at any stage.
As always, I loved the writing style. The story was perfectly paced and kept me wanting to read more and more. The way Karina explored the drug cartel life is phenomenal. There is a realism and authentic atmosphere to the way they are described, and sometimes what happens is very shocking, but this only adds to the atmosphere and keeps drawing you in. She isn't afraid to tackle taboo and controversial topics, and I really admire her for this. She allows her characters – certainly Javier in this case – the freedom to tell their own stories without being bound by a set of genre "rules".
I always find Karina's books the hardest to rate. If I'm comparing Dirty Angels to a book by a different author, it easily would get 5 stars. All of her books have ended up in their own little bubble in my mind, and I end up rating them against each other, and that's why I've given it 4.5. I can't wait to continue on with this series, and the next book will reintroduce us to another familiar character: Javier's sister, Alana! This should be good!