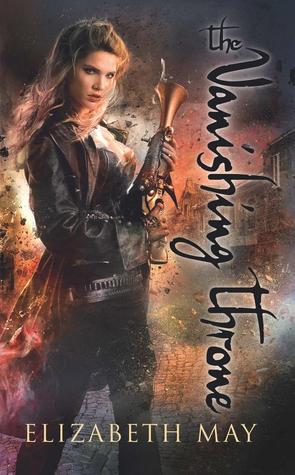 Title: The Vanishing Throne
Author: Elizabeth May
Series: The Falconer, #2
Format: eARC, kindly provided by
the publishers via NetGalley for
review. (Thank you!!)
My rating: 5 / 5

My name is Lady Aileana Kameron.

First the fae murdered my mother. Then they destroyed my world.

Now I'm fighting for more than revenge.

Aileana took a stand against the Wild Hunt, and she lost everything: her home, her family and her friends. Held captive by her enemy, and tormenting herself over her failure, escape seems like only the faintest possibility. But when she gets her chance, she seizes it . . . to rejoin a world devastated by war.

The future is bleak. Hunted by the fae, running for her life, Aileana has only a few options left. Trying to become part of a society scarred by – and hiding from – the Wild Hunt; trusting that a fragile alliance with the fae will save her; or walking the most dangerous path at all: coming in to her own powers as the last of the Falconers . . .

-- As seen on Goodreads
My Thoughts
*I received an eARC from the publishers via Netgalley in exchange for an honest review. This didn't influence my opinion in any way.*
Now THIS is how you write a sequel! Oh wow was The Vanishing Throne everything I hoped it would be and so much more. After the agonising ending in The Falconer, it was so nice to see the sequel picking up shortly after those events. Aileana is being held captive in the faerie realms by Lonnrach, and she has no accurate idea of time passing, what with interrogations and torture taking its toll on her body and spirit. The intensity of the book is set right from those early few chapters and doesn't waver at any stage. Granted, it did take me ten or so percent to settle back into the story fully, but once I did I was completely hooked and enthralled by the world created.
For me, the main highlight of both books so far has been the characters and how they've been developed – they're completely amazing! Aileana is quickly becoming a favourite character of mine. Despite all she's gone through, she's still the fiery, witty and fierce girl she was at the beginning of the series, yet she has a new-found maturity about her which is so awesome to see. She's not afraid of acknowledging she has a vulnerable side, and when she embraces it, it makes her much more likeable and a whole lot easier to empathise with. I completely adore her, and I can't wait to see how her character continues to develop in the next book.
And Kiaran Mackay. Oh boy… *fans-self* If you thought he was swoon-worth in the first book, wait till you see him here! He was a bit of an enigma in The Falconer, and I LOVE that we get to learn more about him and his past. Looking back on the first book and just how torturous the budding romance between Kiaran and Aileana was, seeing how their feelings have matured and grown was so satisfying to see and it's done in a completely believable way. Seriously, the chemistry between these two, holy hell, it was awesome! The tension is so, so good, and their banter crackles off the pages. When I look back at my notes and I see a mix of swooning and random threats littered throughout directed at anything standing in my ships way, well, it's a pretty good clue I've found a new OTP to obsess over! I know I've focused quite a bit on the romance here, but what I love about the series is that the romance doesn't take over the entire plot. It's the perfect blend of awesome characters, a romance you can get behind and support, all captured up in an intriguing world and gripping story. We get to learn so much more about the Seelie and Unseelie courts, but what I particularly loved was finding out the history of the Falconers, and how they came to be.
We're introduced to a new character in The Vanishing Throne, Aithinne, Kiaran's sister, and I absolutely LOVED her! She added a completely different vibe to the story, and I though the sibling rivalry between her and Kiaran was so well done, and her budding friendship with Aileana was awesome. And not to forget Derrick! He has to be the most adorable pixie that was ever created! He's so grouchy and snarky and absolutely hilarious! Yet, he's also kind and caring in his own way, certainly toward Aileana, anyway. I absolutely love when the secondary characters are just as loveable as the mains, and for them get their fair share of development is so nice to see.
I have to mention the ending, oooh that ending… stab me right in feels and rip my heart out, why don't ya! Remember that little cliff-hanger in The Falconer? Pffft. That was a teeny tiny mole hill in comparison to this one. I'm in complete agony here, people! *Sobs* Oh gosh, it was so cruel yet completely genius.
I'm so thankful I got to read this book: I thought The Vanishing Throne was so much better than the first book, and I cannot wait to find out what happens next. Over the past couple of years, I've been reading more and more fae books, and I really think this trilogy could become my all-time favourite fae series. Now, all I want to do for the next year is curl up with the first two books in the trilogy and reread them continually until the final book is released! I know the wait will be completely agonising, but I expect the conclusion to the trilogy will be completely epic.