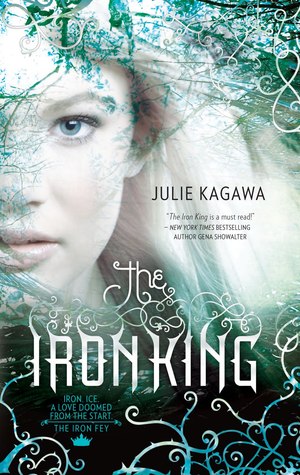 Title: The Iron King
Author: Julie Kagawa
Series: The Iron Fey, #1
Format: Paperback, owned
My rating: 4.5 / 5
Pages: 363

Meghan Chase has a secret destiny; one she could never have imagined.

Something has always felt slightly off in Meghan's life, ever since her father disappeared before her eyes when she was six. She has never quite fit in at school or at home.

When a dark stranger begins watching her from afar, and her prankster best friend becomes strangely protective of her, Meghan senses that everything she's known is about to change.

But she could never have guessed the truth - that she is the daughter of a mythical faery king and is a pawn in a deadly war. Now Meghan will learn just how far she'll go to save someone she cares about, to stop a mysterious evil, no faery creature dare face; and to find love with a young prince who might rather see her dead than let her touch his icy heart.



-- As seen on Goodreads
My Thoughts
Thank you Julie Kagawa, for getting me out of a reading slump! I loved The Iron King. I was so reluctant to start the book; I didn't want my previous disappointments to influence or dictate my feelings. I wanted to love the book, and I'm glad I can say I did. I had very high expectations, and for the majority, they were met.
I loved the writing style. I enjoyed everything about it and it grabbed and held my attention. I adored the world building and the way the world is crafted. It's appealing, easily imagined and the imagery and descriptions are so vibrant. I love the concept of the Nevernever, and further on in the book, how our new technology is having an effect on the fey and other myths and legends of old.
The characters are so likeable and their personalities jump out of the pages. I loved Megan. She is such a real teen, the way she thinks and expresses herself I though was really genuine. She's a strong character with back-bone. The book is quite fast paced, and this forces Megan to accept things quickly, maybe a little too quickly? I understand that she never felt completely accepted in her home/school life, but it felt a little convenient that she accepted everything she learned almost instantaneously.
Megan isn't the only character I connected with: I loved both Puck and Grimalkin. I couldn't help picturing Grimalkin as Salem from Sabrina the Teenage Witch, with the voice over included! When the characters pop out of the pages, and I can easily picture them interacting with each other, I'm a very happy reader. Puck's humour and wit was so appealing, and mixing this in with Grimalkin's snarky-ness, it was so entertaining to read.
The only character I didn't connect with was Ash. I think I'm in the extreme minority with this, but I felt his character was very flat and cardboard like. I didn't find him appealing at all. I was a lot happier reading about Megan, Grim and Puck. When Ash joined the story, things felt forced.
I'm glad to say the romance that blossomed didn't overshadow the book. It's a very small part of the story thankfully, as I felt what happens between Ash and Megan was strained and didn't seem natural or believable. It came out of the blue, and I really didn't see how their feelings progressed so quickly. This, and not enjoying Ash's character, would be the only negatives I have about the book. Everything else I loved.