This week, I'm waiting on...
Oblivion
by Kelly Creagh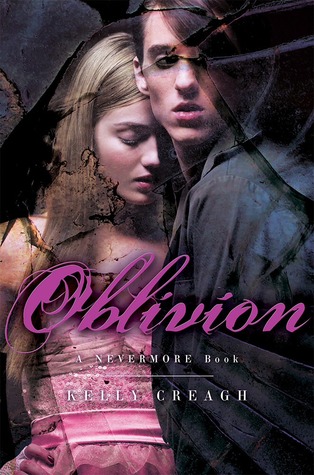 Series: Nevermore, #3
Expected publication: July 28th 2015
Genres: Fantasy; Paranormal; Gothic; Young Adult;
This electrifying conclusion to the Nevermore trilogy takes one last trip to the dream world of Edgar Allan Poe to reveal the intertwined fates of Isobel and Varen.

The boundaries which divide Life from Death are at best shadowy and vague. Who shall say where the one ends, and where the other begins? —Edgar Allan Poe

The fine line between life and death blurred long ago for Isobel Lanley. After a deadly confrontation with Varen in the dreamworld, she's terrified to return to that desolate and dangerous place. But when her nightmares resume, bleeding into reality, she is left with no choice. Varen's darkness is catching up to her. To everything. Threatening to devour it all.

Isobel fears for her world. For her sanity and Varen's—especially after a fresh and devastating loss. To make matters worse, the ghostly demon Lilith wants Varen for her own, and she will do anything to keep him in her grasp—anything.

Can Isobel ever find her happy ending? Worlds collide and fates are sealed in this breathtaking finale to the Nevermore trilogy.
Words cannot express how much I NEED this book in my life. RIGHT. FREAKING. NOW!! I was late to start the trilogy – I only read Nevermore in 2014 – but it still haunts me. Everything about the book I loved… the characters, the atmosphere, the writing style, EVERYTHING. I need to know how this trilogy ends, but I'm so scared! I really want a nice, sweet and happy ending but then I remember the trilogy is influenced by Edgar Allan Poe. Nice, sweet, or happy doesn't really come to mind when I think of his works! I'm hopeful and terrified all at once, but I really expect this conclusion to be epic. I have complete trust that the wait will be worth it, but seriously, July 28th needs to arrive tomorrow. *Nods*
Have you read the Nevermore trilogy? What did you think of it? And what new releases are you waiting on this week?