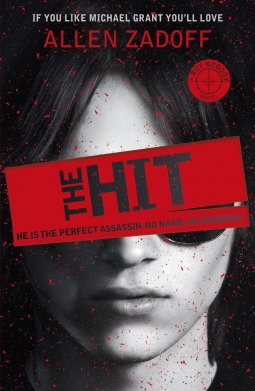 Title: The Hit
Previously published as
Boy Nobody, and I Am The Weapon
Author: Allen Zadoff
Series: The Unknown Assassin, #1
Format: eGalley, kindly provided
by the publishers via Netgalley for
review. (Thank you!!)
Publisher: The Hit by Allen Zadoff
My rating: 2.5 / 5

Boy Nobody is the perennial new kid in school, the one few notice and nobody thinks much about. He shows up in a new high school, in a new town, under a new name, makes few friends and doesn't stay long. Just long enough for someone in his new friend's family to die -- of "natural causes." Mission accomplished, Boy Nobody disappears, and moves on to the next target.

When his own parents died of not-so-natural causes at the age of eleven, Boy Nobody found himself under the control of The Program, a shadowy government organization that uses brainwashed kids as counter-espionage operatives. But somewhere, deep inside Boy Nobody, is somebody: the boy he once was, the boy who wants normal things (like a real home, his parents back), a boy who wants out. And he just might want those things badly enough to sabotage The Program's next mission.

-- As seen on Goodreads
My Thoughts
This is one of those 'it's not the book, it's me' occasions. While I think the concept is fabulous, and I can see why so many people love The Hit, overall it didn't really work for me. I was completely wrapped up in the story when I began reading, and I had really high hopes that I'd end up loving it. But, a pesky little thing called sleep had to happen so I had to put the book down. I don't know why, but when I began reading again the following day, I couldn't get back into the story. I didn't grip my attention anymore, and the characters started to feel flat and one-dimensional. I'm intentionally keeping things quite vague in my review – I think it's best to go into this book knowing very little about it. If at all possible, read it in one sitting! This is my biggest regret, and I'm pretty sure I would have completely fallen in love with it if I had.
The main character is the perfect representation of how I imagine a cold-hearted emotionless assassin would be. We don't get to know his real name, but he takes the name 'Benjamin' for this particular assignment. I loved how cold and detached he was, but here in also lies my problem. The entire book is emotionless. I didn't have anything to root for, my emotions weren't engaged at any stage, and the characters felt a little too remote and distant. I'm a character focused reader, and I thrive on connecting and empathising with the characters in the books I read. Sadly, all of this was missing here and I had very little to root for. Add in a touch of insta-love… and you've lost me. The romance portion of the book didn't feel real or believable and things progressed a little too quickly for my tastes.
Initially, I was a big fan of the writing style. It's crisp, clinical, blunt and straight to the point and I felt it added a lot to 'Ben's' character overall. Unfortunately, the more I read the less I enjoyed the style. It became tedious and took a great effort to remain focused on reading. I really wish I could have loved The Hit more. The concept intrigues me so much, but without connecting with the characters and a writing style that doesn't really suit my reading tastes, I ended up feeling a bit disappointed.