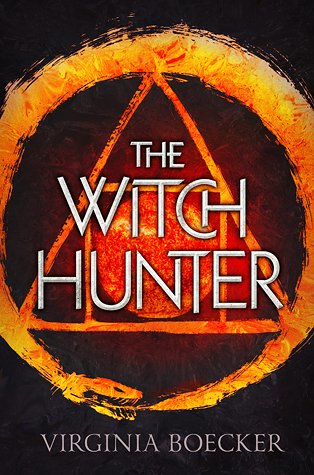 Title: The Witch Hunter
Author: Virginia Boecker
Series: The Witch Hunter, #1
Format: eARC kindly provided
by the publishers via Netgalley
for a review (Thank you!!)
Publishers: Hachette Children's Books
My rating: 4.5/ 5

The magic and suspense of Graceling meet the political intrigue and unrest of Game of Thrones in this riveting fantasy debut.

Your greatest enemy isn't what you fight, but what you fear.

Elizabeth Grey is one of the king's best witch hunters, devoted to rooting out witchcraft and doling out justice. But when she's accused of being a witch herself, Elizabeth is arrested and sentenced to burn at the stake.

Salvation comes from a man she thought was her enemy. Nicholas Perevil, the most powerful and dangerous wizard in the kingdom, offers her a deal: he will save her from execution if she can break the deadly curse that's been laid upon him.

But Nicholas and his followers know nothing of Elizabeth's witch hunting past--if they find out, the stake will be the least of her worries. And as she's thrust into the magical world of witches, ghosts, pirates, and one all-too-handsome healer, Elizabeth is forced to redefine her ideas of right and wrong, of friends and enemies, and of love and hate.

Virginia Boecker weaves a riveting tale of magic, betrayal, and sacrifice in this unforgettable fantasy debut.


-- As seen on Goodreads
My Thoughts
I had a pretty good idea that I'd enjoy The Witch Hunter, but there's always that little doubt at the back of my mind that insists on keeping my expectations under control. I've been bitten by the hype bug one too many times, and I'm learning to be a little cautious! I'm SO GLAD I can say I shouldn't have worried – I loved The Witch Hunter! I love when I get so caught up in a book that I can just relax and enjoy being swept away by a fabulous story.
The book is set in an alternative 16th century London after a deadly plague decimated the population. The plague was blamed on magic, and witchcraft is outlawed and those found participating or in possession of anything witchcraft related are burned alive at the stake. Elizabeth Grey, our MC and narrator, is one of the best witch hunters in Anglia, but she's been off her game recently and her fellow witch hunters, including her childhood friend Caleb, are beginning to notice. I will confess that The Witch Hunter and I had a bit of a shaky start. Elizabeth was a hard character to empathise with initially, and I think it was due to her crush on Caleb dominating much of the early chapters. This seems to be a standard theme in YA these days, and I was afraid things would go downhill from there. Thankfully, it didn't. Elizabeth is found with illegal contraceptive herbs, and is accused of being a witch. She's thrown in Fleet prison to awaiting her imminent execution, and her perception of the world begins to change when her greatest enemy is the one to help her escape from prison.
I loved how entertaining and captivating the story telling was. It's really moreish, and I kept trying to find excuses to squeeze in an extra ten minutes of reading whenever I could. The book is written in the first person, and we gain knowledge and figure things out at the same pace as Elizabeth, and while I could see a few things coming, I loved that nothing was dragged out unnecessarily. Once Elizabeth figured something out, we were off pursuing the answer and the plot zipped on ahead quickly. While the setting is 1558 London, the language used throughout the book is quite modern. Personally, I didn't mind this at all – I tend to find overly historically sounding books boring to read.
The dialogue and the interactions between the characters made me fall in love with the book. I loved how natural they seemed, and nothing felt scripted or forced. While it took me a while to connect with Elizabeth, I thought she was a really good character. She's a quick thinker and quite resourceful, and I enjoyed seeing the story unfold from her perspective. I feel both John and Elizabeth's characters worked best together, and some of their interactions were nothing short of adorable. The progression of their attraction felt natural, and while it only spanned a handful of weeks, it felt believable. I didn't feel the plot was dominated by the romance, either. I really liked how subtle it was, and I felt it complimented rather than detracted from the story. George and Fifer were easily my favourite characters, though. I always favour the humours ones, and George sort of reminded me of a drunk version of Puck from the Iron Fae series by Julie Kagawa. (You know how much I love Puck!!)
I really like that this book is wrapped up nicely – no cliff-hangers in sight, phew! – but the ending itself wasn't quite as explosive as I was imagining it to be. With all the build-up just before, I was expecting huge and epic things, and while I liked what happened… I had hoped for a bit MORE! Overall, I thoroughly enjoyed The Witch Hunter. It's a really fun and entertaining light fantasy read, and it's easily one of my favourite debuts of 2015!
*I received an eARC from Hachette Children's Books via Netgalley in exchange for an honest review. This didn't influence my opinion in any way.*