Waiting On Wednesday is a weekly event, hosted by Breaking the Spine, that spotlights upcoming releases that we're eagerly anticipating.
This week, I'm waiting on...
The Secret Fire
by C.J. Daugherty and Carina Rozenfeld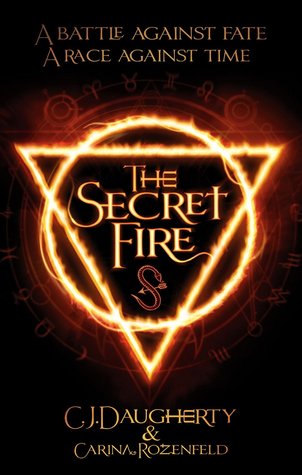 Series: The Secret Fire, #1
Expected Publication: September 3rd 2015
Genres: Fantasy; Paranormal; Young Adult
French teen Sacha Winters can't die. He can throw himself off a roof, be stabbed, even shot, and he will always survive. Until the day when history and ancient enmities dictate that he must die. Worse still, his death will trigger something awful. Something deadly. And that day is closing in.

Taylor Montclair is a normal English girl, hanging out with her friends and studying for exams, until she starts shorting out the lights with her brain. She's also the only person on earth who can save Sacha.

There's only one problem: the two of them have never met. They live hundreds of miles apart and powerful forces will stop at nothing to keep them apart.

They have eight weeks to find each other.

Will they survive long enough to save the world?

I love the sound of this so much! The cover does remind me of The Witch Hunter, but I still really like it. I haven't read anything by Carina Rozenfeld, but I know just how amazing C.J. Daugherty's books are, so I have very high expectations for The Secret Fire. I still have withdrawals from her Night School series! It has become one of my favourite series over the years and I can't believe it's concluded, but it's awesome to have another book co-written by C.J. to look forward to, and it's only a few months away! The Night School series is Contemporary, and I'm REALLY curious to see how she handles a Fantasy. The Secret Fire is the first book in a two part series, and I'm really excited about this. We get so many trilogies these days it'll be nice to have a shorter series to look forward to!
What do you think of The Secret Fire? And what new releases are you waiting on this week?