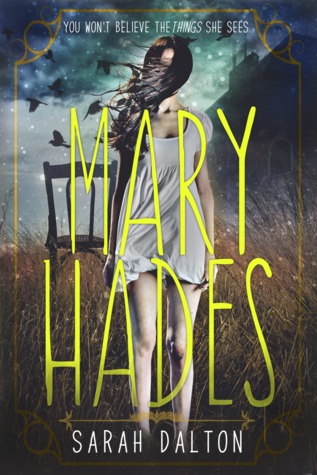 Title: Mary Hades
Author: Sarah Dalton
Series: Mary Hades, #1
Format: Review copy, via NetGalley
My rating: 4 / 5

Not many seventeen year old girls have a best friend who's a ghost, but then Mary Hades isn't your average teenager.

Scarred physically and mentally from a fire, her parents decide a holiday to an idyllic village in North Yorkshire will help her recover. Nestled in the middle of five moors, Mary expects to have a boring week stuck in a caravan with her parents. Little does she know, evil lurks in the campsite…

Seth Lockwood—a local fairground worker with a dark secret—might be the key to uncovering the murky history that has blighted Nettleby. But Mary is drawn to him in a way that has her questioning her judgement.

Helped by her dead best friend and a quirky gay Goth couple, Mary must stop the unusual deaths occurring in Nettleby. But can she prevent her heart from being broken?



-- As seen on Goodreads
My Thoughts
It's no secret I love ghost stories, and I'm so glad I can say I really enjoyed Mary Hades! The cover caught my eye shortly after its release last year, and the synopsis sparked my interest even further. I'm so glad I got the chance to read it, and I loved seeing that it's so much more than a creepy ghost story; it has a fabulous mystery/thriller storyline running through the book to make it even more interesting.
Mary Hades is the first full-length book in the series, but the story contained here continues on after the events in the prequel novella, My Daylight Monsters. I would recommend starting with the novella, but I don't think it'll spoil anyone's enjoyment of this book if you read Mary Hades first. We get plenty of details and we can piece the information together to get the full picture of what took place in the novella, and we're up to speed with everything that's happened quite quickly. I hadn't realised there was a prequel when I began reading this book, but I do plan on going back to read the novella before I continue on with book two.
Mary Hades is our main character and narrator, and she can see and communicate with the dead. She was recently released from a stay in a psychiatric institute - she was hospitalised for schizophrenic hallucinations - and her parents think it's the perfect time for a change of scenery, and the family goes on a caravan holiday to Nettleby in North Yorkshire. Mary gets premonitions when bad events are about to occur, and they usually result in a fatality. She sees a skeletal being she has nicknamed 'Things,' and on the car trip, she saw one in a nearby field. While the family are settling into their caravan, a young boy falls to his death from the top of one of the building on the campsite. Rumours are running around that the camp is haunted by the ghost of a twelve year old girl that was brutally murdered on the nearby moors, and she has been responsible for many suspicious deaths around the nearby area since she was killed five years previous.
I really liked all the characters, and while we might have seen them before, the way they're portrayed here made them all blend together really well. I especially liked Mary and Lacey's friendship. I liked their camaraderie and their banter, and while Lacey is a ghost now, you could sense that they had a bond while she was still alive. Mary's a great character and she has a remarkably mature outlook for her years. I'd love to see both Neil and Lemarr in the next book. They were present here, but sort of on the fringes for most of this book, so I'd love to get know them a little more. I really enjoyed the relationship that grew between Mary and Seth, and I'd love if he showed up as well, but with the eventual outcome it seems like mightn't happen. It's a pity, as I'd really like to see more of Seth's character.
On a terror level, it's not really the scariest book I've ever read. It's more of an atmospherically creepy book, with more subtle scares throughout. I personally really enjoyed it, and I think it's perfect for anyone who dislikes outright blood-and-gore-terrifying horror, but wants to try a really good creepy ghost story. Overall, I thoroughly enjoyed Mary Hades, and I plan on continuing on with the series as soon as I can!