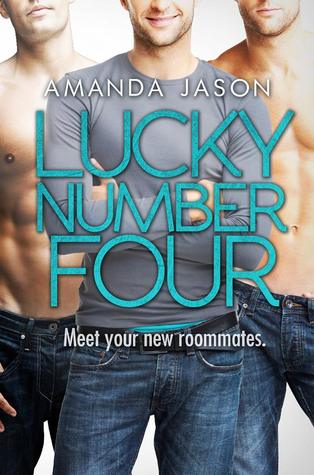 Title: Lucky Number Four
Author: Amanda Jason
Series: Standalone
Format: Kindle
My rating: 1 / 5

Pandora Ann Phillips' life is just normal-crazy

Her mom's a psychic, her dad's mom is a snob, her mom's parental units are "too down to earth" and her best friends are newlyweds. Okay, so her best friends being newlyweds isn't really abnormal, but living with them in a cramped two-bedroom apartment definitely is. Sex, sex, sex is totally on their minds. Actually it's not only on their minds, but it's on the kitchen table, couch, on top of the washer...well, you get the picture.

Being a celibate (not by choice, mind you) full-time college student, and an almost full-time barista, Pandora can't afford to lose anymore sleep. So, she seeks out a new place to lay her head. Enter three "drool worthy" male models that are looking for a fourth roommate and they want her...and won't take no for an answer.

Hilarity ensues as Pandora's life turns completely upside down, and she begins to wonder if it will ever be the same again!


-- As seen on Goodreads
My Thoughts
Sometimes, things just start off on the wrong foot and they don't get back on track. Unfortunately, I can't sugar coat this: for me, Lucky Number Four was a complete disaster. On the surface, it could have been a really funny, fluffy contemporary read, but the execution left everything to be desired. Seriously, it reads like an unnecessarily drama-filled urban-fantasy novel - without the supernatural creatures - not a contemporary. I didn't like the writing style, everything felt jumbled together; the characters felt undeveloped and the plot was just too improbable for my tastes.
The first of the red flags should have been the name of the main female character: Dora. Yes, the synopsis says Pandora, but she actually goes by the name Dora. I may have pictured Dora the Explorer all grown up. It became very awkward, VERY quickly. The second warning was the forced humour. I LOVE books that can make me laugh, but sadly, this wasn't one of them. This could just be me, but everything in the book was the exact opposite of everything I find funny.
Dora lives with her two best friends, who just happen to be newlyweds. She feels like she's encroaching on their newly wedded bliss, so she decides to move out of their shared apartment. She finds an advertisement in the local supermarket looking for a roommate, and she decides to take a chance on it. She arrives at the apartment, knocks on the door, and a half-naked male supermodel answers the door. Oh, let me clarify, a famous male supermodel. Turns out that there are three of them living there, and they need a new roommate. A couple of minutes later, Dora sits down and they demand she move in. Now, she did exactly what I would do. She ran. But, naturally, they don't take no for an answer. While Dora is in college, they move all her stuff out of her apartment, and into their own. They also convince her best-friend and her husband to move in, too!
*Sigh*
I judge contemporary books in a completely different way to every other book I read. I have just one hope: what happens in the book needs to be within the realms of everyday possibility. Like, if I looked up and saw a stranger walking down the street, I hope that what I read could potentially be happening in that person's life right now. While I suppose someone technically could be moving into an apartment with three drop dead gorgeous male supermodels, I found the way it was handled completely ridiculous. When you add in the same old predictable drama and twists that keeps cropping up in New Adult… it becomes so tedious to read. I wasn't surprised at any stage, and I had a pretty good idea what would happen next. Turns out, I was spot on.
I wish I had something positive to say, but I honestly didn't find anything that appealed to me. The premise had SO MUCH potential, and I'm really disappointed that it didn't turn out like I hoped. Please, if you're curious about reading the book, don't let my opinions put you off. It didn't work for me, but that doesn't mean it won't work for you. Try it for yourself and make up your own mind :)