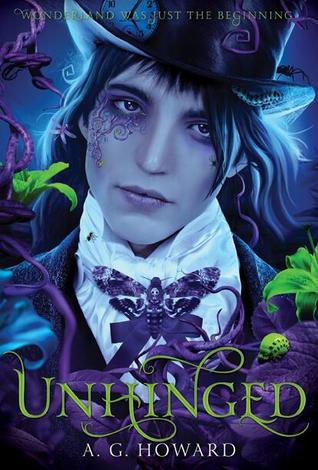 Title: Unhinged
Author: A.G. Howard
Series: Splintered, #2
Format: Paperback, owned
My rating: 5+ / 5

Alyssa Gardner has been down the rabbit hole and faced the bandersnatch. She saved the life of Jeb, the guy she loves, and escaped the machinations of the disturbingly seductive Morpheus and the vindictive Queen Red. Now all she has to do is graduate high school and make it through prom so she can attend the prestigious art school in London she's always dreamed of.

That would be easier without her mother, freshly released from an asylum, acting overly protective and suspicious. And it would be much simpler if the mysterious Morpheus didn't show up for school one day to tempt her with another dangerous quest in the dark, challenging Wonderland—where she (partly) belongs.

As prom and graduation creep closer, Alyssa juggles Morpheus's unsettling presence in her real world with trying to tell Jeb the truth about a past he's forgotten. Glimpses of Wonderland start to bleed through her art and into her world in very disturbing ways, and Morpheus warns that Queen Red won't be far behind.

If Alyssa stays in the human realm, she could endanger Jeb, her parents, and everyone she loves. But if she steps through the rabbit hole again, she'll face a deadly battle that could cost more than just her head.



-- As seen on Goodreads
My Thoughts
Oh wow, I don't even know where to begin! How in the world can I write a review about Unhinged without including Morpheus in every second sentence!? Ok, maybe I do know where to begin: MORPHEUS! By a mile, he was my highlight of Unhinged. I really want that glorious little mothboy to get a happily ever after in Ensnared! But, let's not get ahead of ourselves … back to Unhinged!
I loved Splintered, but Unhinged completely surprised me – I loved it even more! In Splintered, Wonderland was so vibrant, unusual and consuming that the characters sort of took a back seat at times. Here, Unhinged is mainly about the characters. Wonderland is never far away, but with the human world being the main background, the characters take centre stage and we get to focus on them. Almost a year has gone by since Alyssa returned from her trip down the rabbit hole. She is determined to forge out a human life, and is still trying to build up the courage to tell Jeb about their time in Wonderland. A couple of times early on, I felt a little unsure of her motivations. Part of me feels like she is trying so hard to convince herself that she wants a human life with Jeb that she is essentially running away from herself, resisting change at every turn, and blocking out a much stronger and dominant part of her personality. She soon realises that Wonderland – and Morpheus – can't be outrun that easily as they attempt to force Alyssa's hand and get her to react to the problems facing Wonderland.
I liked Alyssa, even if she could be a bit indecisive at times, but I can't really hold this against her too much. She's trying to figure out who she truly is – human, netherling, or something in between – and I get the feeling that she's so afraid of change and as a result she clings to everything that's familiar in the human world, and Jeb. She's seen what happened to her mother and her other relatives, and she's terrified that this will be her fate too. I loved that she got the chance to establish a relationship with her mother again, and it was awesome to see that relationship grow.
I wasn't a big fan of Jeb in the first book, but I thought I could tolerate him if that was the way the story went. In Unhinged, I did not like him one bit. The issues I had with him became even more pronounced: he's smothering, overbearing and overprotective and I get the feeling that he doesn't trust Alyssa. He has to be in control at all times, and making all the decisions. He continually abandons Alyssa in favour of his design work, and Alyssa blindly accepts it, making excuse after excuse and letting him off the hook. Really, Jeb is the only negative blot on an otherwise awesome book. If he ends up being eaten by a tulgey tree, I won't miss him.
"Nothing can break the chains you have on my heart. For you are Wonderland."
*Sighs* Oh, Morpheus… I think I'll be referring to Unhinged as The Book of Morpheus from now on! I said at the end of my Splintered review how I was tentatively on Team Morpheus. After reading Unhinged, there is not one single doubt in my mind! I didn't know what to make of him back then. He's an enigmatic character with lots of different sides to his personality and seeing the occasional glimpses of a more human and softer side to him in Splintered was intriguing, but with everything that happened, I was a bit unsure of him. He will do anything to save Wonderland and his own skin, and he'll sacrifice anything that gets in his way to do it. But… every scheme, every choice, every little string he pulled, he tried his best to protect three things he holds dear: Himself, Wonderland… and Alyssa. There is one huge part of his personality that I love, and I suspected it in Splintered, but it was confirmed for me in Unhinged. He sees Alyssa as an equal, not something to be owned or controlled. He knows that she is capable of taking care of herself and she can manage to get out of scrapes on her own. He is there for her continually, but will only step in and help when she truly needs him. And thank heavens it seems like Alyssa has realised this, too. Now, as far as I'm concerned, there is no possible comparison between Jeb and Morpheus. Nobody can convince me otherwise.
"Game, set, match. Ever, and always, my equal."
I love when I begin reading a book and the writing style instantly 'clicks' with me. I absolutely adore the way these stories are told, and I love how it perfectly blends engaging story-telling and beautiful descriptions without them becoming overly flowery. I gobbled up the pages, and I didn't want the book to end! I was not expecting that ending! It completely took me by surprise and it has taken me over a week to manage to get my head around it to write up this review. Ensnared is going to be phenomenal! If it takes the Wonderland world-building from book one, and combines it with the awesome characterisations from book two, (with lots of Morpheus, and a certain prophecy coming true), then it'll be nothing short of EPICNESS! January can't come quick enough!