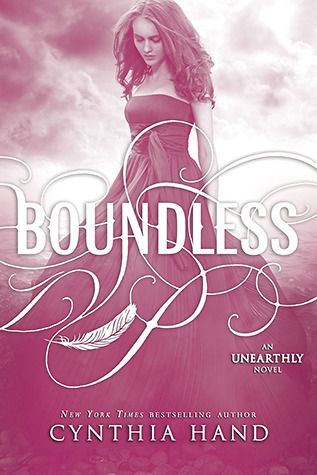 Title: Boundless
Author: Cynthia Hand
Series: Unearthly, #3
Format: Paperback, owned
My rating: 4.5 / 5
Pages: 434

The past few years have held more surprises than part-angel Clara Gardner could ever have anticipated. Yet from the dizzying highs of first love, to the agonizing low of losing someone close to her, the one thing she can no longer deny is that she was never meant to live a normal life.

Since discovering the special role she plays among the other angel-bloods, Clara has been determined to protect Tucker Avery from the evil that follows her . . . even if it means breaking both their hearts. Leaving town seems like the best option, so she's headed back to California - and so is Christian Prescott, the irresistible boy from the vision that started her on this journey in the first place.

As Clara makes her way in a world that is frighteningly new, she discovers that the fallen angel who attacked her is watching her every move. And he's not the only one. . . . With the battle against the Black Wings looming, Clara knows she must finally fulfill her destiny. But it won't come without sacrifices and betrayal.

In the riveting finale of the Unearthly series, Clara must decide her fate once and for all.


-- As seen on Goodreads
My Thoughts
( Spoiler free for book three – there is a couple of references to the previous books in the series, but no outright spoilers for the trilogy. )
I was a bit terrified to start Boundless. In Hallowed, and even reading the blurb above reveals that Clara moves away to college, and I had flashbacks to the Breathing trilogy by Rebecca Donovan. The first two books were Young Adult, and the conclusion to that trilogy was set in college with a New Adult feel to it, and well… I kinda hated it! I was so worried that this book would go the same direction, and I'm SO GLAD (and relieved!) I can say Boundless didn't disappoint me! I loved seeing that the same vibe from the previous books remained, and I loved how it blended in with Clara's new journey in California.
What stood out for me was the writing style – I loved it! The way things are described really appeals to me, and I could effortlessly imagine the world and put myself into the story. Everything is described so vividly, and in particular, I loved the way hell was portrayed. Now, that is a sentence I never thought I'd write, but it's true! The pacing in Boundless was so good, and before I knew it a hundred pages would have flown by when I had only intended to read forty or fifty! I love finding books that have that 'hook' that keeps you glued to the pages.
I've liked Clara's character right from the beginning of the trilogy. I loved looking over her shoulder and I found I could really click with her narrative style in all three books. She has a fantastic mix of serious, humorous and mild-snarky-ness, and when it's all blended together, it's so entertaining to read. Christian had a bigger role in this book that I was expecting… and yep, he still bothers me! I can't take to him, and believe me, I've tried! I can't get past the way he continually tries to influence and subtly bully Clara into his way of thinking. I don't feel that anything he does for Clara is for her benefit, and everything is about fulfilling his purpose. And in complete contrast, I've been singing Tucker's praises from book one. I still love his character, even though he wasn't in this book as much as I would have liked. Everything I said about him in my Hallowed review still applies, and I doubt you want to see me start gushing again!
Boundless was more intense than I was expecting. With the way the book began, and then the build-up that followed, I was almost expecting it to be… mild? But this wasn't the case. The way the story unfolded sort of lulls you into a false sense of security, and I could really sense the tension and urgency right up to the ending. Now, speaking as vaguely as possible about the ending… For one of the characters, I thought the ending to their story line was rather… abrupt. With the focus that was put on this particular character throughout the series, I was expecting that storyline to have been wrapped up with some sort of convincing finality.
Looking back, I'm so glad I took the chance to read the Unearthly trilogy. I thoroughly enjoyed all three books, I loved the characters and I really liked the way the concept and how angels are portrayed – even if it is a more traditional way in one sense, with a slight fantasy spin. One thing has always concerned me though: I read the Angelfall books before I began this series, and they set the bar so high that I'm not even sure I'll ever find a book to match them. Both Angelfall and World After are my two favourite angel themed books – Ever. So beginning a new series featuring angels was a little worrying!
I'm a little unsure how to rate Boundless if I'm honest. I'm hovering between a 4.5 and a 5 star rating. I guess, depending on my mood at the time I'm thinking about the book, it can be both ratings! Right now, I'm sticking with 4.5. I always hate this moment – when you have to write the concluding paragraph to the last book in a series! I hate saying goodbye to characters I've grown to love, and I know I'm going to miss reading about Clara, Tucker, and yes, even Christian! I really enjoyed their story and in a way, I'd have loved if it continued on a bit longer.