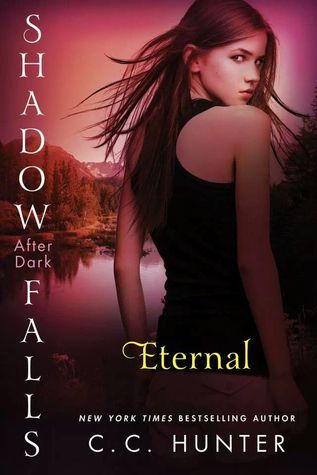 Title: Eternal
Author: C.C. Hunter
Series: Shadow Falls: After Dark, #2
Format: eARC, kindly provided by
St. Martin's Press. This didn't influence
my opinion in any way.
My rating: 3 / 5

All her life, Della's secret powers have made her feel separated from her human family. Now, she's where she belongs, at Shadow Falls. With the help of her best friends Kylie and Miranda, she'll try to prove herself in the paranormal world as an investigator—all the while trying to figure out her own heart. Should she chose Chase, a powerful vampire with whom she shares a special bond? Or Steve, the hot shapeshifter whose kisses make her weak in the knees? When a person with dark connection to her past shows up, it'll help her decide which guy to choose–and make her question everything she knows about herself.

-- As seen on Goodreads
My Thoughts
I'm so torn about this series! I mentioned in my review for Reborn that I regret not reading the original series first, and I still feel the same way after reading Eternal. I did have a better understanding of the series this time, but the main issue is the disconnect I have with Della. I just can't empathise with her, and I struggle to get inside her head and actually root for her to succeed. When I don't connect with the main character, I usually struggle to fully connect with a story as a whole.
Eternal continued on where Reborn leaves off. Della is recovering from a rare virus that caused her to go through a second transition into a vampire. To help her survive, Chase gave her his blood and they are now "bonded," and exploring what this actually means is a big thread through the book. It's described as similar to the bond identical twins have, so I guess it would be like having a sixth-sense where the other person is concerned. They're trying to figure out how this changes their future, and how it affects the way they interact. The mystery that was unearthed in Reborn continues on, and both Chase and Della team up to find two young vampires that are trapped underground and their time for survival is running out.
I enjoyed the overall premise of this series. I like the strength the characters display and their interactions are entertaining. It reminds me of Hex Hall actually, and I love that series. I think this is where my problem begins, really. I connected with the characters in that series, but here, I'm not connecting, and this is where all my frustrations lie. I feel like I don't have anything to root for.
Della opens up a bit more in Eternal, and she is definitely not as hard as nails as the first book. I feel she needs a support network she can rely on, and it's awesome she seems to have found that at Shadow Falls. But… I just don't understand her thought processes! I don't get why she sees hugs and support from her friends as a sign of weakness. Also, it feels like she's stringing Steve along. One minute she keeps thinking that she must let Steve go, she needs to keep her distance, and the next minute, she can't even tolerate the thoughts of losing him, and the green-eyed-jealous-monster Della emerges when he backs off or another girl dares show interest! I guess I feel like her thought processes don't match her actions, and that makes me a bit suspicious of her as a character.
The only character I feel like I've connected with in the series is Chase. In comparison with the other characters, I find him entertaining and interesting. In honesty, I'd love if this book was written in his point-of-view. I think I would have loved the story if that was the case. Now, I have to talk a little about the love-triangle. I'm not necessarily on the anti-love-triangle bandwagon, as long as both characters are on equal footing and represent an equal choice. They can be a lot of fun to read about, and quite a lot of my favourite series end up with some form of choice between two characters of equal merit. I will say though, this is a love triangle I don't really buy into. I do think Della has feelings for Steve, but it feels more like possessiveness rather than a 'love' feeling. I feel like some of the twists were a bit too convenient. Right when Della has to make a choice between Steve and Chase, Steve announces he's leaving, effectively making the choice for Della. It just feels a little too easy.
The book ends on a cliff-hanger, and those are always a terribly cruel way to end a book! I have read worse before, so it might not be too bad! I think reading the Shadow Falls series is essential. If you're a fan of that series, then I'd say you'll love Eternal. I really wish I could have connected with Della here. I enjoyed the overall premise, but unfortunately, being disconnected with the main character prevented me from loving Eternal as much as I could have done.
Title: Unbreakable
Author: C.C. Hunter
Series: Shadow Falls: After Dark, #0.5
Format: eARC, kindly provided by
St. Martin's Press. This didn't influence
my opinion in any way.
My rating: 4 / 5

He isn't everything he says he is. He's even more…

Who is Chase Tallman, the newest member of Shadow Falls? What made him into the sexy, mysterious vampire he is today? And what led him to Della Tsang?

Step back in time and unearth the secrets that haunt him. The secret of how he became a vampire—and how he knows so much about being reborn. Secrets about his first love, his family--and what steers him toward Della, the beautiful, complicated girl he just can't seem to stay away from. The one who makes him want things he thought he'd given up on long ago.

It all began with a research study, a palm reader, and a plane crash that sent him on a quest…for a love that's unbreakable.



-- As seen on Goodreads
My Thoughts
I really enjoyed Unbreakable! It's a novella from Chase's POV when he was fourteen, and it essentially follows his last day as a human. Personally, I think this would be a great stepping stone for anyone who's curious about starting this spin-off series, but hasn't read the original series. We get to see the human side of Chase, when he is crushing on his elder sister's best friend.

I much preferred this representation of his character, rather than the one we get to see through Della's eyes. I wish I had read this before I read Reborn, actually. It's a little strange, but I feel I connected with him more in this novella than I did with Della over the course of two books. This cemented me on Team Chase – and I do think its essential reading for anyone who has read Reborn! Don't skip over this novella!