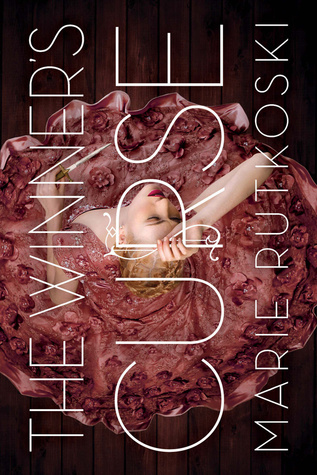 Title: The Winner's Curse
Author: Marie Rutkoski
Series: The Winner's Curse, #1
Format: Paperback, owned
My rating: 5 / 5

Winning what you want may cost you everything you love...

As a general's daughter in a vast empire that revels in war and enslaves those it conquers, seventeen-year-old Kestrel has two choices: she can join the military or get married. But Kestrel has other intentions.

One day, she is startled to find a kindred spirit in a young slave up for auction. Arin's eyes seem to defy everything and everyone. Following her instinct, Kestrel buys him—with unexpected consequences. It's not long before she has to hide her growing love for Arin.

But he, too, has a secret, and Kestrel quickly learns that the price she paid for a fellow human is much higher than she ever could have imagined.

Set in a richly imagined new world, The Winner's Curse by Marie Rutkoski is a story of deadly games where everything is at stake, and the gamble is whether you will keep your head or lose your heart.

-- As seen on Goodreads
My Thoughts
You know those books where you want to say so much, but can't manage to get beyond yelling 'I LOVED IT!' repeatedly? Well, The Winner's Curse is precisely that book for me. I really wish I could find all the words to express just how much I loved everything about it, but I can't get past 'I loved it'! It was imaginative, refreshing and completely captivating, and it helped me get out of my post A Court of Thorns and Roses reading slump that I had been suffering with for months.
The book is written in the third person, with Kestrel as our main character. The majority of the novel is focused on her perspective, but we also get to briefly see Arin's side of things now and again. I really enjoyed how this worked, and it gave a more complete picture of the overall plot. Initially, Kestrel was a hard character to have a lot of sympathy for, but as the book progressed I grew to really like her. I loved that she wasn't afraid to use her intelligence to her best advantage, and to see just how sly and cunning she is was awesome. And Arin was completely adorable! I loved his quiet determination and his unwavering never-give-up attitude. His character was a complete surprise, as initially I hadn't expected to like him very much. I really liked the romance that slowly developed between Kestrel and Arin, and I thought it was so well done. It didn't feel fake or forced, and I really wish more slow build and believable romances like this were shown in YA in general. I also really liked all the other secondary characters in the book, and I can't wait to see how their stories progress.
The world-building was awesome, and I loved how easy it was to clearly imagine the setting. I loved that the back-story to the Empire was spread throughout the book, and I couldn't read quick enough to find out more about the Valorians and the Herrani. The writing style was simply gorgeous, and it grabbed and held my attention right from the beginning. I just HAD to keep reading a few more pages any spare minute I could get, and I love when this happens.
This review is quite a bit shorter than I was expecting it to be, and in honesty, I can't sum it up any other way than saying I loved everything about The Winner's Curse. Overall, I highly recommend this book, and I can't WAIT to continue on with the second book in the trilogy and to find out what will happen after that ending.