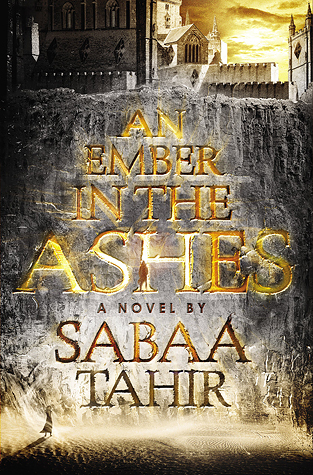 Title: An Ember in the Ashes
Author: Sabaa Tahir
Series: An Ember in the Ashes, #1
Format: Paperback, won via
Goodreads giveaway
My rating: 5+ / 5

Laia is a slave.

Elias is a soldier.

Neither is free.

Under the Martial Empire, defiance is met with death. Those who do not vow their blood and bodies to the Emperor risk the execution of their loved ones and the destruction of all they hold dear.

It is in this brutal world, inspired by ancient Rome, that Laia lives with her grandparents and older brother. The family ekes out an existence in the Empire's impoverished backstreets. They do not challenge the Empire. They've seen what happens to those who do.

But when Laia's brother is arrested for treason, Laia is forced to make a decision. In exchange for help from rebels who promise to rescue her brother, she will risk her life to spy for them from within the Empire's greatest military academy.

There, Laia meets Elias, the school's finest soldier—and secretly, its most unwilling. Elias wants only to be free of the tyranny he's being trained to enforce. He and Laia will soon realize that their destinies are intertwined—and that their choices will change the fate of the Empire itself.

-- As seen on Goodreads
My Thoughts
An Ember in the Ashes clobbered me over the head, ripped my guts out, tortured my soul and managed to prove that this was EXACTLY what I've been dying to read for so long. Holy crap, people, this book was EPIC! I've tried to write a review for months now, and I really don't think I can manage to sum up just how amazing it was. It was almost impossible not to notice all the hype building up to its publication – it was everywhere. Knowing the book was already optioned to become a movie long before release day, I will admit that I got all squinty-eyed sceptical. In a way, I think this was a really good thing. It kept my expectation levels down, and I ended up loving every single word. I honestly can't wait to see this story come alive on screen – it'll be truly epic if it's handled correctly.
On the surface, An Ember in the Ashes does seem like it could be your typical Fantasy meets Dystopian novel, with a conquering Empire keeping the conquered nation oppressed and in slavery, and a band of rebels wanting to fight back. But there is one huge difference in this book to the majority of its predecessors, and it boils down to one thing: risk. Each character faces challenges and situations that truly tests them and the risk to their life and those around them is very, very real. I loved that all of this was portrayed so vividly, and it was awesome to have a real sense of danger throughout. There were several moments when I honestly didn't know which characters would make it, and this added so much intensity and anxiety that made the story even more amazing.
Granted, this might sound a little weird, but I loved how gory the story turned out to be. It's disgusting, disturbing, completely brutal and raw and it's utterly AMAZING. I'm so glad nothing was sugar-coated and glossed over. The world Sabaa Tahir has created is as intricate as it is brutal, and to hide behind the fluffy-bunny-farting-rainbows protective coating that you sometimes get in YA would have been a complete disservice to this phenomenal story. I absolutely loved the Ancient Roman vibe, and I can't help feeling that we've only caught a small glimpse of the world-building that's to come in future books.
And the characters, just how amazing were they! We get to see the story unfold from both Laia and Elias's points-of-view, and I loved how both their narratives intertwined without any annoying backtracking. It was seamlessly done, and at times the unknown only ratcheted up the tension even more. It was perfect! I love characters that slowly evolve and grow, and I wasn't really conscious of when I began to become invested in their futures, but all of a sudden, everything mattered. I just NEEDED them to be okay! And it wasn't just the main characters; the secondary characters were equally amazing. Whether I ended up liking or hating them is irrelevant – each one was fabulously crafted and evoked the exact emotion intended.
The ending did feel to drop off a bit in comparison to the majority of the novel, but this was the only mar on an otherwise epic story. I'm so thankful there is a sequel on the way! I've become really invested in the characters stories, and it would be nothing short of traumatic if this was where their story ended. Overall, I highly recommend An Ember in the Ashes to anyone that's on the fence about reading it. I really don't think you'll be disappointed!