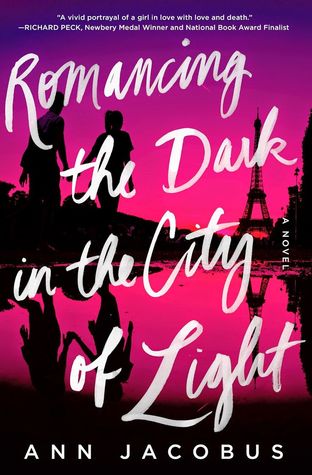 Title: Romancing the Dark in the City of Light
Author: Ann Jacobus
Series: Standalone
Format: eARC, kindly provided
by St. Martin's Press for
review (Thank you!!)
My rating: 4.5/ 5

A troubled teen, living in Paris, is torn between two boys, one of whom encourages her to embrace life, while the other—dark, dangerous, and attractive—urges her to embrace her fatal flaws.

Haunting and beautifully written, with a sharp and distinctive voice that could belong only to this character, Romancing the Dark in the City of Light is an unforgettable young adult novel.

Summer Barnes just moved to Paris to repeat her senior year of high school. After being kicked out of four boarding schools, she has to get on the right track or she risks losing her hefty inheritance. Summer is convinced that meeting the right guy will solve everything. She meets two. Moony, a classmate, is recovering against all odds from a serious car accident, and he encourages Summer to embrace life despite how hard it can be to make it through even one day. But when Summer meets Kurt, a hot, mysterious older man who she just can't shake, he leads her through the creepy underbelly of the city-and way out of her depth.

When Summer's behavior manage to alienate everyone, even Moony, she's forced to decide if a life so difficult is worth living. With an ending that'll surprise even the most seasoned reader, Romancing the Dark in the City of Light is an unputdownable and utterly compelling novel.

-- As seen on Goodreads
My Thoughts
Wow, this book was completely different to what I was expecting. On the surface, it seems to be a fluffy, contemporary romance – and the title and cover certainly lulled me into that belief. But, this false impression does a complete disservice and injustice to just how powerful and amazing Romancing the Dark in the City of Light actually is. It packs one heck of a powerful message that took me completely by surprise, and it's simply fabulous.
This is the story of an eighteen year old girl, Summer, who, to those looking in, has the world at her feet. She comes from a successful family, and is set to inherit a small fortune from her recently deceased Grandfather if she can complete High School and a four year college course by the time she turns twenty-two. But the Summer we meet is at a very low point in her young life. She's battling depression and is dependent on alcohol to numb the loneliness and desperation that's become her one constant companion. She's desperate to find a reason, something to cling onto, and she's convinced that the answer to her problems is to find love.
Summer is a very frustrating character, and she isn't the most likeable protagonist I've ever read about – nor is she meant to be. The self-destructing cycle she's on can't be broken easily, and to be that low with virtually no self-esteem and self-worth… it isn't a happy place for anyone to be in. This is one of the rawest and most sincere depictions of depression I've ever read about, and I'll lavish all the praise and admiration I possibly can on this book for it. No holds were barred, and it created a fabulous blend of so many topics and issues millions of people battle with every day. It's heart-breaking, moving, and completely captivating. Initially, I was a little confused as to why the book was written in the third person. I did find it difficult to click with Summer early on, but by the mid-way point I was completely captured. Honestly, if this was written in the first, it would have been utterly devastating and almost too difficult and painful to read.
Two guys come into Summer's life, one constructive and one very destructive. Summer meets Munir Al Shukr (Moony) at school, and he becomes the one good person in Summer's life. He's overcome some huge obstacles in his own life that I won't go into detail on, but she is drawn to his hope, determination and motivation – basically, what she wishes she had, but hasn't a clue how to find them. Kurt is almost like addiction in human form, and he pushes the creep button VERY hard, and it only gets stronger as the book progresses. I could see why Summer was drawn to him – he had all the right words to comfort her when very few people were there for her, even if it only provided a hollow comfort. You might instantly think love-triangle, and while there are three people involved, the choice is more life or death, not who Summer should end up with.
I really need to comment on how fabulously well Paris is described. In the past, some of the books I've read that are set in Paris bombarded me with Parisian reinforcements on every other page, and it became far, far too much. This book, on the other hand, handled it perfectly. We were in Paris. No bells, no whistles, we were there. The setting just… was. It was effortless. And I LOVED it. Any landmarks that were mentioned served a purpose and needed to be included to move the story forward, rather than providing a cheap reinforcement. Completely perfect!
I'm not going to go into detail about the ending, or more specifically, the final third of the book. I think it is vital have as little prior knowledge as possible to get the full impact – and what an impact it is. Wow. This is one book I'm extremely glad I got the chance to read, and it will stay with me for a very long time to come. The title might be a mouthful and first impressions can be deceiving, but this is one book I really urge you to not dismiss at face value. It's not for the faint of heart, but the message it sends is powerful and harrowing, yet uplifting, and definitely one that needs to be shared with as many people as possible.