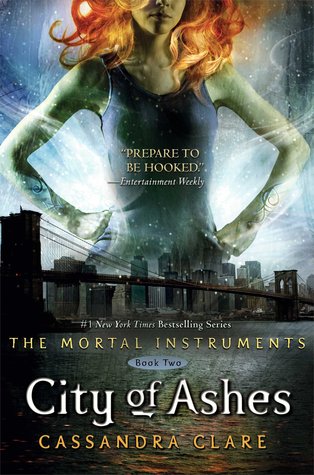 Title: City of Ashes
Author: Cassandra Clare
Series: The Mortal Instruments, #1
Format: Paperback, #2
My rating: 3 / 5

Clary Fray just wishes that her life would go back to normal. But what's normal when you're a demon-slaying Shadowhunter, your mother is in a magically induced coma, and you can suddenly see Downworlders like werewolves, vampires, and faeries? If Clary left the world of the Shadowhunters behind, it would mean more time with her best friend, Simon, who's becoming more than a friend. But the Shadowhunting world isn't ready to let her go — especially her handsome, infuriating, newfound brother, Jace. And Clary's only chance to help her mother is to track down rogue Shadowhunter Valentine, who is probably insane, certainly evil — and also her father.

To complicate matters, someone in New York City is murdering Downworlder children. Is Valentine behind the killings — and if he is, what is he trying to do? When the second of the Mortal Instruments, the Soul-Sword, is stolen, the terrifying Inquisitor arrives to investigate and zooms right in on Jace. How can Clary stop Valentine if Jace is willing to betray everything he believes in to help their father?

In this breathtaking sequel to City of Bones, Cassandra Clare lures her readers back into the dark grip of New York City's Downworld, where love is never safe and power becomes the deadliest temptation.

-- As seen on Goodreads
My Thoughts
It's been almost two years since I read City of Bones, and I'll hold my hand up and admit that I should have read the sequel a lot sooner. I don't have an excuse, really – City of Ashes has been sitting on my shelves for well over eighteen months, and I kept overlooking it in favour of the new shiny sparkly books that I'm addicted to buying. I remembered a few things about the series, most notably the Clary/Jace thing, but most of what happened previously was completely unfamiliar. I'd like to say a huge thanks to Recaptains, as without their lovely series re-caps I would have been quite lost!
It did take a while to click with the characters again, but I have to say that Jace is currently my favourite. There's something about him I can't help but like, and yeah, it's probably all down to the witty comebacks, but he is hilarious. Simon, on the other hand, I didn't warm to at all. He was just sort of… dull. There wasn't anything to like, and it was quite annoying that Clary kept fawning over him. And speaking of Clary, I'm not too sure how I feel about her at this stage. She's the main female lead, yet I don't feel I've got to know her personality at all yet, apart from her jumping to silly conclusions and thinking running toward a vampire that's just clawed its way out of the grave without a stake at the ready is a good idea. (Thanks for your eternal wisdom, Buffy.)
The writing style was something I remembered not clicking with from the first book, and I'm glad to say I thought it was a lot better here. It was a lot subtler and toned down than City of Bones, and I really hope the rest of the series continues in this direction. The pacing was a little inconsistent, though, and the middle of the book was a bit of an unexpected slog to get through. The ending was pretty good, but not as jaw-dropping as I was hoping for. I don't thing enough things were resolved, i.e. the Clary/Jace thing. Come on, we know what'll be revealed, it's fairly obvious!
Overall, I liked City of Ashes a lot more than I was expecting. I'm still on the fence whether The Mortal Instruments series is for me, but I really hope City of Glass will be the book to make me fall in love once and for all.
Title: If I Should Die
Author: Amy Plum
Series: The Revenants Trilogy, #3
Format: Paperback, owned
My rating: 4 / 5

I will not lose another person I love. I will not let history repeat itself.

Vincent waited lifetimes to find me, but in an instant our future together was shattered. He was betrayed by someone we both called a friend, and I lost him. Now our enemy is determined to rule over France's immortals, and willing to wage a war to get what they want.

It shouldn't be possible, none of it should be, but this is my reality. I know Vincent is somewhere out there, I know he's not completely gone, and I will do anything to save him.

After what we've already fought to achieve, a life without Vincent is unimaginable. He once swore to avoid dying—to go against his nature and forsake sacrificing himself for others—so that we could be together. How can I not risk everything to bring my love back to me?

-- As seen on Goodreads
My Thoughts
I already know before I begin typing that this will be a mini-review – I don't really have a whole lot to say other than I really enjoyed If I Should Die. It's another book that's been sitting on my to-read shelves for far too long and I only had a few fuzzy recollections about the previous two books when I began reading. Thankfully, the more I read, the more I remembered, and I got back into the flow of the story quite quickly.
I would have rated the book higher if it wasn't for one issue: Jules. He's the one thing I did remember from the previous books! I've championed him since the beginning of the series, and while I knew he was never an option to be Kate's other half, I thought he deserved a solid conclusion to his character arc. I thought it was pretty obvious that he had feelings for a cartain character, and I think the whole situation was brushed aside far, far too easily. The way it's done feels like there should be a fourth book – or a spin-off from Jules perspective. Time will tell if it happens, I guess.
Overall though, setting the Jules-hiccup aside for a second, I thought the ending was really good. There's a good deal of anticipation built up, and I'm glad it wasn't in vain. (*cough* Like Breaking Dawn *cough*) There were a few little twists that I didn't see coming – one huge benefit of being fuzzy about previous books in the series! Hopefully there will be a spin-off book/series in the future, and it'll provide some closure for Jules, otherwise, I really enjoyed If I Should Die.