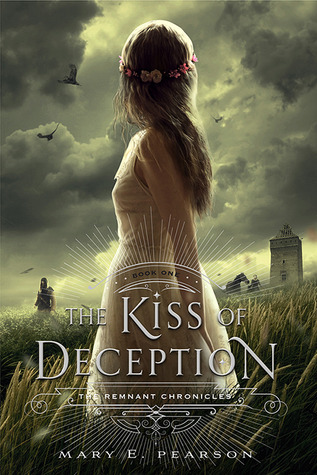 Title: The Kiss of Deception
Author: Mary E. Pearson
Series: The Remnant Chronicles, #1
Format: Hardback, owned
My rating: 4.5 / 5
Publisher: Henry Holt and Co.
Pages: 489

A princess must find her place in a reborn world.

She flees on her wedding day.

She steals ancient documents from the Chancellor's secret collection.

She is pursued by bounty hunters sent by her own father.

She is Princess Lia, seventeen, First Daughter of the House of Morrighan.

The Kingdom of Morrighan is steeped in tradition and the stories of a bygone world, but some traditions Lia can't abide. Like having to marry someone she's never met to secure a political alliance.

Fed up and ready for a new life, Lia flees to a distant village on the morning of her wedding. She settles in among the common folk, intrigued when two mysterious and handsome strangers arrive—and unaware that one is the jilted prince and the other an assassin sent to kill her. Deceptions swirl and Lia finds herself on the brink of unlocking perilous secrets—secrets that may unravel her world—even as she feels herself falling in love.



-- As seen on Goodreads
My Thoughts
Oh wow, I'm so glad I took a chance and read The Kiss of Deception – I loved it! The title is completely accurate: there's deception around every turn! I wasn't expecting to love it as much as I did. The synopsis sounded so intriguing, but I had some reservations that kept my expectations a little low. Looking back, I'm really glad about this: I think I ended up loving the book even more because of it!
The first thing I want to mention is the writing style: I loved it! It flowed so naturally, and it was really easy to get completely lost in the story. It has that addictive quality that made me find excuses to continued reading just one more chapter, late into the night. The pacing throughout was really good and I became so absorbed that the pages flew by, and it made an almost 500 page book feel a lot shorter.
Lia (Princess Arabella) is the main narrator, but I really liked that we got to see both The Prince and The Assassin's POV's, too. It added so much to the web of deceit that was layered over every element of the story. The anticipation that builds up over the course of the book was so awesome! I was so anxious to see which character was the prince or the assassin, and I was afraid once the reveal was, well, revealed, I'd lose interest. Wrong! I loved it even more! The entire book took on a completely different feel, and it hints at a lot of interesting stuff to come in the series.
Overall, each and every character was fabulous! From the secondary characters right through to the main characters, I really liked each one, and how distinct each end up being. I loved Lia! She's a very strong-willed heroine, and I loved her attitude. She doesn't back down from anything, and I loved how outspoken she is. It was so great to see how much she progressed and grew over the entire book, and I can't wait to see how her character develops in the future.
Now, we have The Prince and The Assassin. I was curious to see how this angle would play out, and I loved how it was handled. After Lia escapes to Terravin, she encounters two guys who introduce themselves as Kaden and Rafe. Little does she know that one of them is the Prince she fled from marrying, and the other an Assassin sent to kill her. And I absolutely LOVED that we didn't know which one was which, either! Rafe and Kaden appear to have quite similar personalities early on in the book, and I think this is completely intentional. As the book progresses, we get to see so much more about each of them, and how distinct their personalities really become. If you plan on reading this book, DON'T look for spoilers! Go into the story without knowing who's who! I LOVED not knowing! I thought I had it right, but I was OH SO WRONG! I loved the deception and I thought it was fabulously crafted, and it added so much to my overall enjoyment of the book.
I know there are hints in the synopsis about a love triangle… but honestly, it's barely existent, and doesn't distract from the overall story. This is how I prefer triangles to be written, actually! The best example I could give is that it has a similar subtleness as the Throne of Glass series by Sarah J. Maas. While there is a romance present, it didn't smother and overshadow the story.
My only complaint: the book felt a little bit plot-thin. I don't really see an overall purpose to why the events happened. Yes, Lia wanted to escape from a loveless, arranged marriage, and I highly commend her for this… but, there has to be MORE. And I wanted to know what that was! I'm hoping the overall purpose and world-building in general will be expanded greatly in the next book.
The book, naturally, ends with cliff-hanger. With the overall vibe of the book, I didn't really expect a neatly sewn up ending. It was fitting, and it sets up the next installment really well. I've read worse and more painful cliff-hangers, so I'm not that cut up about it, in honesty! They happen so often these days, I've become immune! Overall, I thoroughly enjoyed The Kiss of Deception. Don't let the hints of a love-triangle put you off. I thought every element was handled excellently, and while I DO have a preference (*cough* Kaden *cough), I equally like Rafe. I can't wait to continue on with the next book in the series, and see what happens next!