Top Ten Tuesday is a weekly meme run by The Broke and the Bookish. This weeks topic is: Top Ten ALL TIME Favorite Authors!
Once I see the words "All-time favourite" I become SO PICKY! I have lots of authors I love, but would they be all-times favourites... I mean, should there requirements?! Maybe the ones I've read the most books from? If I've read lots of their books, I must class them as a favourite, right? Gahh! I'm totally over-thinking! Ok, here is my all-time favourite authors list! (And I know I'll look back at this list and think I've overlooked someone incredibly obvious!)
This list is in no particular order.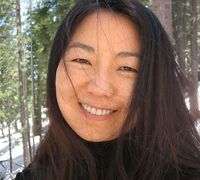 She wrote Angelfall, and managed to relegate every other angel-themed book I'll ever read into second place. Basically, pure awesomeness! (And Raffe! Let's not forget Raffe…)
It's Sarah J. Maas. She created Celaena and Fayre. Her writing style is uber-gorgeous and she creates the most intricate and detailed worlds for her characters to live in… hence, auto-added to every favourite author list I create!
I love getting wrapped up in a great story, and the version of Wonderland she created in the Splintered series is simply phenomenal. Oh! And we can't forget a certain character she created beginning with the letter 'M'… (You know how obsessed I am!)
I love the Night School series so much! It's rare when a building takes on a life of it's own, but Daugherty managed to create that with Cimmeria Academy. If I had to go back to school, and attend a boarding school (in a contemporary setting… erm, I think Hogwarts wins for everyone with non-contemporary!), I'd want to go to Cimmeria Academy =)
Yeah, yeah, yeah… Go ahead, criticise, and maybe roll your eyes. (I'm above it … *hair flip!*) But joking aside, I'm very thankful I read Twilight way back when, and I have Stephenie to thank for showing me I could LOVE reading, and it was something I could be truly passionate about. If that doesn't deserve a place on my all-time favourite authors list, I don't know what does!
Twilight might have got me back reading, but Suzanne Collins showed me where I could find dozens of new favourite books – the Young Adult genre! The Hunger Games made me fall in love with YA, and I doubt I would be blogging today if I hadn't read the trilogy.
(For some reason, I feel like this should be followed up with a 'duh'?!) But in seriousness, I only began reading the Harry Potter books last year, and I've fallen in love with her writing and story-telling already. I know the books I still have to read will be even better, and I can't WAIT to find the time to devour them.
I LOVE the Under the Never Sky trilogy so much, and if she ever wanted to write a spin-off featuring Roar… I definitely wouldn't complain!
She created Perry and Dex! You know how much I love those two. I haven't kept up to date with some of her more recent releases… But, I LOVE all of her self-published books.
I love Creagh's writing style so much! It's so incredibly beautiful and lyrical, and and the atmosphere she creates in her books is amazing. I can't wait to read Oblivion this summer - I need to know how the trilogy ends!
So, that's my list! Picking out favourites is always so hard - I end up feeling a bit guilty not including all the other authors I love! Tell us, who are your favourite authors? Do we share any favourites?
Please note: all author images are from Goodreads.