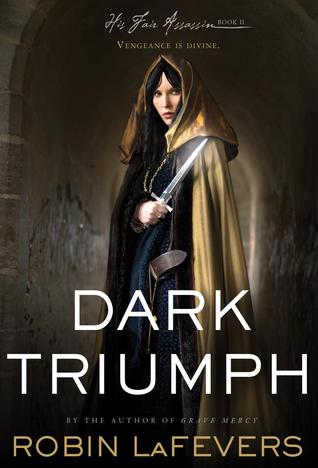 Title: Dark Triumph
Author: Robin LaFevers
Series: His Fair Assassin, #2
Format: eARC, kindly provided
by publisher via Netgalley
My rating: 4.5 / 5

When Sybella arrived at the doorstep of St Mortain half mad with grief and despair the convent were only too happy to offer her refuge - but at a price. The sisters of this convent serve Death, and with Sybella naturally skilled in both the arts of death and seduction, she could become one of their most dangerous weapons.

But her assassin's skills are little comfort when the convent returns her to the life that nearly drove her mad. Her father's rage and brutality are terrifying, and her brother's love is equally monstrous. But when Sybella discovers an unexpected ally she discovers that a daughter of Death may find something other than vengeance to live for...



-- As seen on Goodreads
My Thoughts
What a stunning sequel Dark Triumph turned out to be! I loved it! There were some seriously big boots to fill after the awesomeness that is Grave Mercy, and Dark Triumph lived up to my expectations. It did take me longer than I expected to fully click with the book, but once I did, I loved it!
The characters in the series are fabulous! It's awesome to see how each character has their own distinct individuality and vibrancy. I have to start with two characters I despise: the Abbess, and D'Albret. Both of them are incredibly well crafted, but I absolutely hate them both! D'Albret is fabulous as a villain, and his character managed to evoke so much hatred and disgust in me, it's incredible. And what a hateful person the Abbess turned out to be! I knew she wasn't exactly a saint in the first book, but she really showed her true colours here.
I loved Sybella's character, and I loved finding out more about her. I don't remember that much about her from Grave Mercy. She seemed like an interesting character, but I didn't put that much thought into what actually happened in her past. I LOVE that she got the chance to tell her story! On first appearance, Sybella appears to be a cold, heartless killer following duties, and I loved seeing a softer side to her personality slowly appearing throughout the book. She's had one brutal life up to this point, and at times it's not an easy read. Quite a few unsettling and icky subjects are addressed, though not in stark detail, but you can read between the lines and get the full gory picture. I'm delighted to see the historical rose-tinted glasses were removed, and portrayed just how disgusting some parts of history can be. Sybella's picked herself up from so many horrible battles in her life, and I loved the inner strength she continually showed. She's very quick witted, and can change most situations into her advantage.
My favourite part has to be the romance that blossomed between Sybella and Beast! I LOVED how their relationship slowly unfolded. They have a fabulous banter between them, and I couldn't help but smile every time they butted heads. Their attraction to each other felt completely natural, and I loved just how well suited they are for each other. I really like that Beast is not your typical drop dead gorgeous hero. It makes things a lot more interesting and refreshing. I loved his character in Grave Mercy, and it was awesome to see him here, and to discover more about him. He has an amazing glass-half-full attitude to life, and it was the perfect contrast to Sybella's outlook.
I really loved the writing style, too. Robin LaFevers creates incredibly captivating stories, and I love the depth of feeling and detail she manages to create with her words without becoming overly descriptive and off-putting. Everything is immaculately paced, and each sentence flows into the next effortlessly. I love it! One thing that stood out for me was how well the battle scenes were described. They were crystal clear, and it was so easy to imagine everything that was taking place. It's always a peeve of mine when details are brushed over during a good fight scene and I LOVED seeing they were perfectly crafted here.
I felt there was less focus on the political intrigue aspect in this book. There was lots of action going on throughout, but I didn't feel it was as deep-rooted as in Grave Mercy. Yeah, I'm splitting hairs here, but it's these little things that make me prefer Grave Mercy over Dark Triumph. While I loved Dark Triumph, I still prefer Ismae and Duval's story a little more. Overall, I thought Dark Triumph was a fabulous sequel to one of my favourite books, and I can't wait to read Annith's story!
*I received an ARC via Netgalley in exchange for an honest review. This didn't influence my opinion in any way.*