This week, I'm waiting on...
The Winner's Kiss
by Marie Rutkoski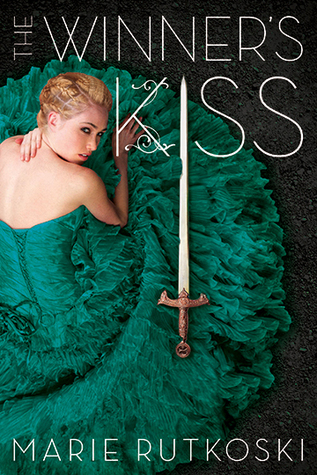 Expected publication: 24th / 29th March 2016
Genres: Fantasy; Young Adult
War has begun. Arin is in the thick of it, with the East as his ally and the empire as his enemy. He's finally managed to dismiss the memory of Kestrel, even if he can't quite forget her. Kestrel turned into someone he could no longer recognize: someone who cared more for the empire than for the lives of innocent people—and certainly more than she cared for him. At least, that's what he thinks.

But far north lies a work camp where Kestrel is a prisoner. Can she manage to escape before she loses herself? As the war intensifies, both Kestrel and Arin discover unexpected roles in battle, terrible secrets, and a fragile hope. The world is changing. The East is pitted against the West, and Kestrel and Arin are caught between. In a game like this, can anybody really win?

-- As seen on Goodreads
I'm so glad I listened to everyone telling me to wait as long as I could to read The Winner's Crime because THAT ENDING WAS PAINFUL! I bought the book shortly after it was released, but I only read it in December, and I have no idea how anyone that read it straight away has been able to cope with the wait for The Winner's Kiss. March needs to begin tomorrow, seriously! And Arin. And Kestrel… AARRGHHH! *sobs* I can't take it anymore! *sobs even harder*

(PS: YAY FOR MATHING COVERS!!)
What are you waiting on this week? Thanks for stopping by, and
Happy Reading!
* Waiting On Wednesday is a weekly event, hosted by Breaking the Spine, that spotlights upcoming releases that we're eagerly anticipating. *