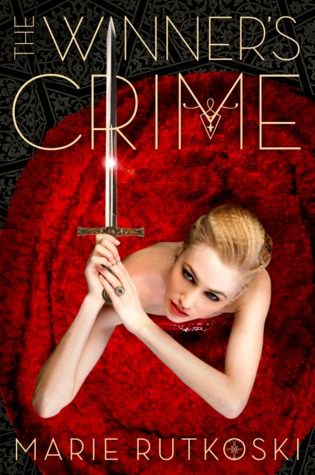 Title: The Winner's Crime
Author: Marie Rutkoski
Series: The Winner's Trilogy, #2
Format: Paperback, bought
My rating: 4 / 5

Lady Kestrel's engagement to Valoria's crown prince calls for great celebration: balls and performances, fireworks and revelry. But to Kestrel it means a cage of her own making. Embedded in the imperial court as a spy, she lives and breathes deceit and cannot confide in the one person she really longs to trust ...

While Arin fights to keep his country's freedom from the hands of his enemy, he suspects that Kestrel knows more than she shows. As Kestrel comes closer to uncovering a shocking secret, it might not be a dagger in the dark that cuts him open, but the truth.

Lies will come undone, and Kestrel and Arin learn just how much their crimes will cost them in this second book in the breathtaking Winner's trilogy.

-- As seen on Goodreads
My Thoughts
The Winner's Crime was a fabulous sequel to The Winner's Curse, but out of the two, I did enjoy the first book a bit more. This one was quite a bit slower paced than I had expected, and that threw me off as I remember flying through the first book. The story was still really engaging despite the slowness, and I love that we got to see more world-building, and in particular, the war brewing in the East. In general, the story had more political undertones than the first book and I can't wait to see how everything comes together in the final book.
I've got to say, Arin disappointed me a bit. I really grew to love him in The Winner's Curse, but in this one I was kind of frustrated with how he behaved and reacted to certain things. He says he knows Kestrel and can figure out and read all the schemes she comes up with, yet, he was very quick to jump to conclusions and not listen to her. Yeah, he did have some reason to distrust her considering what she did, but his lack of empathy seemed a bit overboard and didn't seem right to me, if that makes sense. It wasn't until quite near the ending that he began redeeming himself and become a bit more like the Arin I remembered.
Kestrel on the other hand, I liked a lot more in this book. She might regret some of the choices she made previously, but she does her best to push forward and make the most of a bad situation. I actually forgot just how shrewd, cunning, observant and ruthless she can be! Also, it makes a really nice change to read about a badass female character that uses her wit and intellect to win battles, rather than relying on fists and swords.
Honestly, one of my biggest gripes with the entire book was the lack of any meaningful communication between Arin and Kestrel. It was so frustrating to read! I wanted to grab the two of them, shove them into two chairs, and make them talk to each other. What makes it doubly frustrating was how much I loved their interactions in the first book! I miss the bond and the romance that had slowly formed between them.
But, for me, the biggest talking point about The Winner's Crime was THAT ENDING!! How am I supposed to be okay after reading that?!? Words fail me, but holy freaking crap everything's gone to hell. I can now see why everyone was recommending I hold off reading this book until closer to The Winner's Kiss release date. I really hope things work out for Arin and Kestrel in the final book… even though I'm a bit scared! I can't even begin to imagine how this series will conclude, but I have really high hopes it'll be completely epic.