This week, I'm waiting on...
Shallow Graves
by Kali Wallace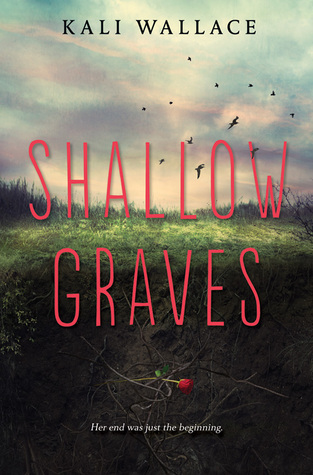 Expected publication: January 26th 2016
Genres: Fantasy; Paranormal; Zombies
For fans of Holly Black and Nova Ren Suma, a gripping, hauntingly atmospheric novel about murder, revenge, and a world where monsters—human and otherwise—lurk at the fringes.

When seventeen-year-old Breezy Lin wakes up in a shallow grave one year after her death, she doesn't remember who killed her or why. All she knows is that she's somehow conscious—and not only that, she's able to sense who around her is hiding a murderous past. In life, Breezy was always drawn to the elegance of the universe and the mystery of the stars. Now she must set out to find answers and discover what is to become of her in the gritty, dangerous world to which she now belongs—where killers hide in plain sight and a sinister cult is hunting for strange creatures like her. What she finds is at once empowering, redemptive, and dangerous.

Tense, complex, and wholly engaging, Shallow Graves is a stunning first novel from Kali Wallace.
Zombies?? Ooooh so much YES! I've been looking for a zombie book that really appeals to me for a while now, and Shallow Graves sounds like it'll be perfect. Just the thoughts of waking up buried terrify me, so I can only imagine how scary it'll be to read that part of book :D
What do you think of Shallow Graves? Do you read many zombie books, and if so, which one has been your favourite so far? (I need all the recommendations I can get!) And, what new releases are you waiting on this week?
Thanks for stopping by, and Happy Reading!
* Waiting On Wednesday is a weekly event, hosted by Breaking the Spine, that spotlights upcoming releases that we're eagerly anticipating. *