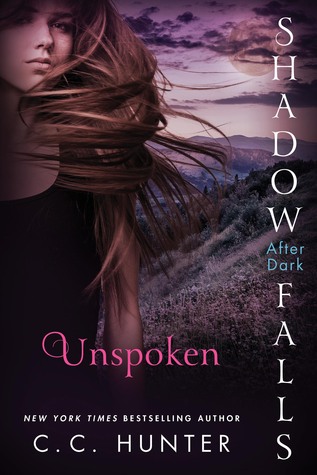 Title: Unspoken
Author: C.C. Hunter
Series: Shadow Falls: After Dark, #3
Format: eARC, kindly provided
by the publishers for review
(Thank you!!)
Publisher: St Martin's Griffin
My rating: 4 / 5

Despite her superhuman strength and enhanced senses, Della Tsang's life as a vampire certainly hasn't been easy. Especially since she was reborn and bound to the mysterious, infuriating, and gorgeous Chase Tallman.

But if there's one thing that's always kept Della going, it's her dream of being an elite paranormal investigator. Her newest case is the opportunity she's been waiting for, but as Della tries to solve the twenty year old murder and clear her father's name. She uncovers secrets about the vampire council. And about Chase.

Feeling betrayed by all the secrets he's kept hidden from her, Della is determined to keep him as far away from her heart as she can. But she'll need his help to solve the case that will lead them into the darkest and ugliest vampire gangs in town and into the scariest reaches of her heart.

-- As seen on Goodreads
My Thoughts
*I received an eARC from the publishers in exchange for an honest review. This didn't influence my opinions in any way.*
I'm so glad I got the opportunity to read Unspoken: it was, by far, my favourite book in the Shadow Falls: After Dark trilogy. The mystery aspect was a lot stronger than in the previous two books, and I was intrigued by the story right from the beginning. It was a lot more action packed, too, which is always a good thing!
Unspoken is told from both Della and Chase's points-of-view, and I thought it added so much to the overall story. I've struggled to fully connect with Della throughout the trilogy, and it was nice to have a different perspective to break things up a bit. While I liked Della a lot more in Unspoken, she's still a character I can't completely empathise with. Her thought process can be a bit infuriating, and she brings a lot of problems onto herself unnecessarily. Chase, on the other hand, is the one character I've really liked throughout the series. I really liked seeing more of his character, but I felt the 'I'll-worship-Della' button was pushed a bit too hard at times. While I loved seeing the story develop from both characters perspectives, there was a little bit of back-tracking with the same or similar information presented twice. It was a little annoying at times, particularly at the beginning of the book as it slowed down the pacing unnecessarily, but thankfully I was wrapped up in the story enough that it didn't spoil my overall enjoyment.
For a series that's quite heavy on communication between friends, the miscommunication that often occurs is a bit frustrating. Also, the lack of proper communication between the opposite sexes is a bit surprising. While the banter between Della and Chase, for example, is fabulous and entertaining, well over half of their problems wouldn't have happened if they talked openly and honestly with each other. Chase, giving him credit where it's due, tried his best, but Della usually blocked him whenever he tried to explain things. At one point I started to think Chase was far too good for Della… but that's an argument for another day!
I was under the impression that the love-triangle was sewn up and resolved in Eternal, so colour me surprised when it resurfaced again. This was one of my biggest issues with the book, actually. I didn't see any need to rehash it all over again. I can completely understand – and support – Della saying she needed time to figure things out and for the situation with her father's murder charge to be resolved before she could process things properly. I actually really like this! BUT, here's the thing, the vast majority of her angst was completely needless! Steve had already removed himself from the picture when he decided to follow his career and move to France, so I don't understand why he's been dragged back into the picture except for the sake of adding extra drama. I haven't read the original Shadow Falls series, and maybe it's because of this my impressions of Steve aren't that positive. I've never liked his character that much – I thought he was quite bland, in honesty – and whenever his character appeared in Unspoken, I started to roll my eyes as I knew drama was following close behind.
As I mentioned earlier, I liked how the mystery portion of the story unfolded. It continues on after the developments in Eternal, and Della's father is the main suspect in his sister's murder. Della can't accept that her father is responsible, and will do anything she can to clear his name despite their relationship deteriorating. There was quite a bit going on in the book, and I really liked the balance between each plotline. The ending itself was really well done, but maybe a little more detail to flesh out some of the reasoning behind certain things that happened would have made it amazing.
Overall, Unspoken was a really satisfying conclusion to Della's story. The blend of mystery, friendship, swoons and self-discovery throughout was really addictive, and I'm so glad the series finished off on a high. Just a quick note, though: if you're interested in reading this trilogy, but haven't read the original Shadow Falls series yet, then I'd highly recommend starting with Born at Midnight before moving onto this trilogy. If you're already read and loved that series, then, what are you waiting for?! I'm pretty sure you'll love Della's story!