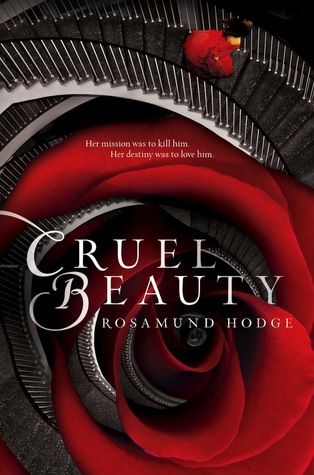 Title: Cruel Beauty
Author: Rosamund Hodge
Series: Standalone
Format: Paperback, owned
My rating: 3.5/ 5

Graceling meets Beauty and the Beast in this sweeping fantasy about one girl's journey to fulfill her destiny and the monster who gets in her way-by stealing her heart.

Based on the classic fairy tale Beauty and the Beast, Cruel Beauty is a dazzling love story about our deepest desires and their power to change our destiny.

Since birth, Nyx has been betrothed to the evil ruler of her kingdom-all because of a foolish bargain struck by her father. And since birth, she has been in training to kill him.

With no choice but to fulfill her duty, Nyx resents her family for never trying to save her and hates herself for wanting to escape her fate. Still, on her seventeenth birthday, Nyx abandons everything she's ever known to marry the all-powerful, immortal Ignifex. Her plan? Seduce him, destroy his enchanted castle, and break the nine-hundred-year-old curse he put on her people.

But Ignifex is not at all what Nyx expected. The strangely charming lord beguiles her, and his castle—a shifting maze of magical rooms—enthralls her.

As Nyx searches for a way to free her homeland by uncovering Ignifex's secrets, she finds herself unwillingly drawn to him. Even if she could bring herself to love her sworn enemy, how can she refuse her duty to kill him? With time running out, Nyx must decide what is more important: the future of her kingdom, or the man she was never supposed to love.

-- As seen on Goodreads
My Thoughts
Undeniably, Cruel Beauty is a fabulous book. It includes so many things I love - fantasy, fairy-tale retellings, mythology, magic, the list goes on. In theory, I should love every single word, but … I didn't. For the life of me, I can't understand why I wasn't completely besotted by this story. Now don't get me wrong, I ended up really liking it, but not nearly as much as I had expected to.
I really liked both the writing style and world building, and they were easily my favourite parts of the book. I loved the Greek mythology hints that were sprinkled throughout, and the incorporation of Beauty and the Beast was really good. It did take me a chapter or so to completely settle into the story, but I blame this on my indifference toward Nyx more than anything else. Despite how much I liked the ideas surrounding the story, I never felt completely invested or anxious to see how things would progress. By the half-way point I felt things slowly began going downhill, and my attention span along with it.
The book is written in the first person, and I usually have an easier time clicking with the main character when this point-of-view is used. But with Nyx, gosh, I kind of half liked and half hated her. She changed her mind that often, I was in fear of getting whiplash. When she was sassy, cold and determined, she was fabulous, but unfortunately this side of her personality didn't shine through long enough. In honesty she spent most of her time running around a castle like a headless chicken, and the rest of the time moping after two guys – one of which she was sent to kill. I had expected more assassin spirit and a lot less love sick puppy. Also, for such a smart girl she could be incredibly insufferable and obtuse. I'd correctly guessed the majority of the outcome by the fifth chapter, and I find it intensely infuriating when the MC doesn't cop onto what's right in front of her nose!
The romance was… not that wonderful if I'm honest. The whole thing felt a bit off and insta-lovey. Ignifex was the only character I really liked in the book, but he wasn't as charismatic or evil as I had hoped. He was very… erm, tame. (What can I say, Tamlin and Rhys from ACoTaR have spoiled me!) I hadn't expected a love-triangle when I began reading, so I was quite surprised and apprehensive when Shade was introduced to the story. He was just a pain in the arse throughout, and when Nyx was ready to declare her undying love after seeing him twice I was ready to throw in the towel.
Overall, Cruel Beauty was an enjoyable read, but nowhere near as stunning as I had expected it to be. I can't help feeling I read it at the wrong time. That je ne sais quoi was missing, I guess, and I really think I probably should have enjoyed it a lot more than I did. I'd like to (and I intend to) reread it again at some stage, just to see if timing really is the reason why I didn't love Cruel Beauty right now.