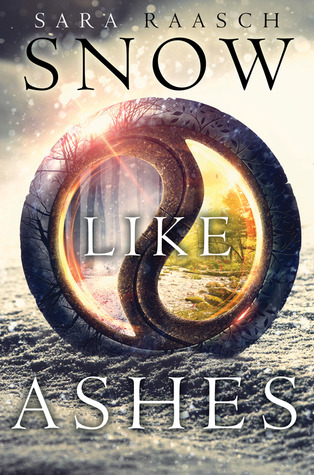 Title: Snow Like Ashes
Author: Sara Raasch
Series: Snow Like Ashes, #1
Format: Hardback, owned
My rating: 4.5 / 5

A heartbroken girl. A fierce warrior. A hero in the making.

Sixteen years ago the Kingdom of Winter was conquered and its citizens enslaved, leaving them without magic or a monarch. Now, the Winterians' only hope for freedom is the eight survivors who managed to escape, and who have been waiting for the opportunity to steal back Winter's magic and rebuild the kingdom ever since.

Orphaned as an infant during Winter's defeat, Meira has lived her whole life as a refugee, raised by the Winterians' general, Sir. Training to be a warrior—and desperately in love with her best friend, and future king, Mather — she would do anything to help her kingdom rise to power again.

So when scouts discover the location of the ancient locket that can restore Winter's magic, Meira decides to go after it herself. Finally, she's scaling towers, fighting enemy soldiers, and serving her kingdom just as she's always dreamed she would. But the mission doesn't go as planned, and Meira soon finds herself thrust into a world of evil magic and dangerous politics – and ultimately comes to realize that her destiny is not, never has been, her own.

-- As seen on Goodreads
My Thoughts
I loved Snow Like Ashes, LOVED IT! This was one of my most anticipated 2015 debuts, and I'm so glad it delivered and exceeded my expectations. The plot had me glued to the pages from beginning to end, and I couldn't wait to get some free time to read a few more chapters and find out what happened next. I've tried several times to write a coherent review but I can't quite find the words to sum up just how much I enjoyed this book.
If I had to pick one thing I loved most about Snow Like Ashes it would be the main character and narrator, Meira. I clicked with her within the first dozen pages, and I only grew to like her even more as the book progressed. She's doggedly determined to prove herself, and will find a way to overcome anything standing in her way. Her narrative throughout the book was flawless, and her inner monologue was so entertaining and captivating. I loved how vibrant, sassy, courageous and hot-headed she was. While she may initially appear to be a bit selfish, the more we get to know Meira, we can see she really has Winters best interests at heart.
There are the hints of a love triangle – and I know you're thinking 'oh no, not again' – BUT I think this could turn out to be one of the good ones. When love triangles are crafted well they can be so entertaining to read, and for me, it's vital that both people in question are on equal footing and have an equal shot of being 'the chosen one', if you will. Both Mather and Theron are great characters, and I genuinely like both. While Mather gets the majority of my sympathy for what he's endured up to now, I thought Theron's personality shone through stronger. Right now I'm leaning more toward Team Theron… but things can change! I can't wait to see how their characters develop in future books, and I really hope they both remain on an equal footing.
It wasn't just the characters that captured my heart: the world building and how Primoria is described was fabulous. It was so easy to imagine everything and I never felt lost or confused at any stage. Meira is one of the eight remaining free Winterians that have taken refuge in the Rania Plains since Spring invaded and captured Winter sixteen years previously. I really liked that the kingdom had already been lost and we got to see the life they survivors of the invasion eked out for themselves, and the Winrerians subsequent struggles to return home and recapture their own lands. The world is split into eight kingdoms, four Rhythm Kingdoms – Cordell, Paisly, Ventralli and Yakim – and four Season Kingdoms – Summer, Autumn, Winter and Spring. Each Season Kingdom only experiences one season, whereas each Rhythm Kingdom experiences all four seasons. Each kingdom has its own heritage, magic, customs and beliefs, and I hope in future books we'll find out even more about each one. Oh, and on a side note, I love books with maps! I shall throw all the stars at books that have glorious maps!
There was only one slight negative: I called a pretty important twist quite early on. I was a little surprised that I ended up being right! Despite this, it didn't detract that much from my overall love of the story. I was still hooked and invested in the outcome right up to the last page. Overall, I loved Snow Like Ashes, and I can't wait to see how things progress in the next book.