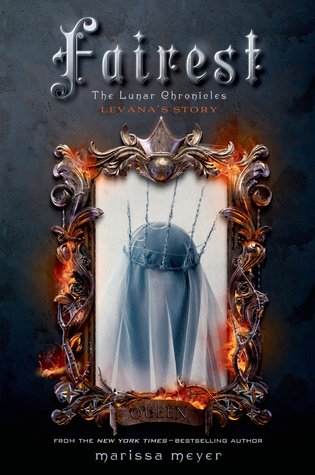 Title: Fairest
Author: Marissa Meyer
Series: The Lunar Chronicles, #3.5
Format: Hardback, owned
My rating: 5 / 5

In this stunning bridge book between Cress and Winter in the bestselling Lunar Chronicles, Queen Levana's story is finally told.

Mirror, mirror on the wall,
Who is the fairest of them all?

Fans of the Lunar Chronicles know Queen Levana as a ruler who uses her "glamour" to gain power. But long before she crossed paths with Cinder, Scarlet, and Cress, Levana lived a very different story – a story that has never been told . . . until now.

Marissa Meyer spins yet another unforgettable tale about love and war, deceit and death. This extraordinary book includes full-color art and an excerpt from Winter, the next book in the Lunar Chronicles series.

-- As seen on Goodreads



My Thoughts
Oh wow, where do I begin, Fairest was awesome! I really liked Cress, but I didn't enjoy it quite as much as I was expecting to. It did affect my anticipation for Winter – I wasn't really that keen on reading it right away. But now after reading Fairest, I can't WAIT to read Winter, it really is going to be epic!
In Fairest we get to see from Queen Levana's childhood right up to her mid-twenties, and the events that shaped her into the evil Queen we know and hate. Holy wow, she is one scary lady! She's been dealt some really terrible cards in life, and I couldn't help feeling sorry for her at times. I definitely wasn't expecting to feel sympathy toward her, and this shows just how fabulous Marissa Meyer is at developing well-rounded characters. I loved getting a better understanding of what warped Levana into the cold, calculating, ruthless antagonist who will stop at nothing in her pursuit of what she wants. Seeing her logic is nothing short of unsettling and repulsive, yet so morbidly fascinating.
The writing style was flawless, as always. I love how crystal clear Meyer's books are, and how easy it is to imagine everything that's taking place. I loved learning a bit more about Luna and how the society works. I get the feeling that there's a whole lot more left to discover, and I can't wait to read about it in Winter.
Technically, you could read this novella between any of the books in the Lunar Chronicles series, but I do think it's best reading it after you've finished Cress. There are no full-on spoilers for the first three books in the series, but it would be possible to pick up on a few hints that could spoil things slightly. And also, I think keeping the mystery that is Queen Levana for as long as possible is vital. I'm not going to name specific names, but I LOVED seeing some familiar characters popping up throughout the book, and finding out where they are linked into Queen Levana's story.
Overall, Fairest was an excellent addition to an already amazing series, and I highly recommend reading it. This novella is a must read, and should not be skipped over!