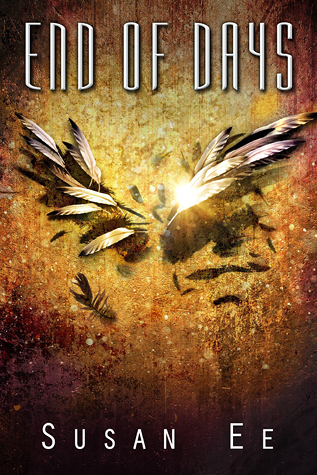 Title: End of Days
Author: Susan Ee
Series: Penryn and the End of Days, #3
Format: Paperback, owned
My rating: 3 / 5

End of Days is the explosive conclusion to Susan Ee's bestselling Penryn & the End of Days trilogy.

After a daring escape from the angels, Penryn and Raffe are on the run. They're both desperate to find a doctor who can reverse the twisted changes inflicted by the angels on Raffe and Penryn's sister. As they set off in search of answers, a startling revelation about Raffe's past unleashes dark forces that threaten them all.

When the angels release an apocalyptic nightmare onto humans, both sides are set on a path toward war. As unlikely alliances form and strategies shift, who will emerge victorious? Forced to pick sides in the fight for control of the earthly realm, Raffe and Penryn must choose: Their own kind, or each other?




-- As seen on Goodreads
My Thoughts
I read End of Days back in May, and it's taken me until the end of July to figure out how I feel about the conclusion to one of my favourite series. I guess it could be summed up in one sentence: I liked how the story concluded, but I was expecting so much more. I was truly gutted when I found out End of Days would be the final book in the series. Like everybody, I had been looking forward to five glorious book of Penryn, Raffe and their plight to survive the angel apocalypse. I thought I'd have years of awesomeness to come, so it came as a big shock when I found out that the third book is actually the end. (I can't help wondering if this disappointment has clouded my overall enjoyment of the ending.)
Ok, I have to say this: four books would have made this series perfection – namely, a book in-between World After and End of Days. Why? So much was condensed into this one book and lots of little events were skimmed over, and quite a few things were left either unanswered or rushed. If everything that happened was expanded on, slowed down and developed even more than it was and split between two books… it really would have been epic.
Penryn: Angelfall Penryn is one of my all-time favourite characters, but End of Days Penryn… gosh, I don't know what happened, but she didn't really seem like the Penryn I remembered at all. I didn't connect with her that much and it really breaks my heart. In the first book, the majority of her focus was on protecting her mother and sister, and while this still applies in End of Days, those intentions didn't seem as genuine anymore. It felt like she was going through the motions of caring for her sister, but if I'm honest, most of her focus is on Raffe. Now, I love Raffe, but what made this series awesome was Penryn not letting the gorgeous hunk of angel distract her from her own goals. I feel this side of her personality shrivelled away a bit too much, and a bit too quickly. I'm also a bit surprised with Penryn's attitude toward her sister. I don't want to say too much, but I was expecting her to be more… open… to Paige's new needs.
Raffe: Most of what I mentioned about Penryn can apply to Raffe, too. I liked him in this book, but he wasn't quite the same. While the swoony and humours words are there, a lot of the feelings and emotions behind them have disappeared. I think back to Angelfall, and even to World After, and every sentence and interaction made an impact. Here though, his personality felt a little flat at times. Smart-mouth, humorous, badass Raffe is adorable, but indecisive Raffe isn't that appealing, if I'm honest.
I felt Penryn and Raffe's relationship was a little bit too convenient at times. We went from one book (WA) with very little Penryn and Raffe, to a book with LOTS of Penryn and Raffe. While the banter is present, the emotion behind it was lacking and all the tension I remember from the first two books was skimmed over. It wasn't just their relationship that felt a bit a bit rushed: I would have loved to know more about The Watchers and Hell! And I can't forget about the ending and the epilogue. It was a weird combination of satisfying and disappointing. I have a love/hate relationship with epilogues in general, and this one leans into the hate side. I can only describe it as feeling out of place, and not as impactful as I had hoped for.
Overall, I really enjoyed Penryn's story and I'm satisfied with the conclusion, but I can't help feeling that the ending to the trilogy had the potential to be so much better. While I might have been a bit disappointed, I highly recommend starting this series. Angelfall still remains one of my favourite books, and that will never change.