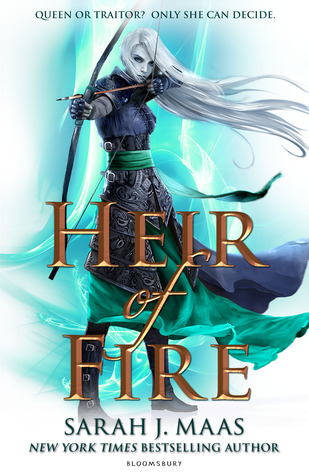 Title: Heir of Fire
Author: Sarah J. Maas
Series: Throne of Glass, #3
Format: Paperback, owned
My rating: 5 / 5
Pages: 562

Consumed by guilt and rage, Celaena can't bring herself to spill blood for the King of Adarlan. She must fight back...

The Immortal Queen will help her destroy the king - for a price. But as Celaena battles with her darkest memories and her heart breaks for a love that could never last, can she fulfil the bargain and head the almighty court of Terrasen? And who will stand with her?


-- As seen on Goodreads
My Thoughts
I've come to the conclusion that it's a very dangerous habit to become attached to characters in the Throne of Glass series. Odds are every one of them will be brutally killed. But! HOLY CRAP THIS SERIES IS EPIC!! I am completely captivated by it and everything – the characters, the world building, the plot, the atmosphere, the tension, the EMOTION – is just phenomenal. Sarah J. Maas is one author who loves torturing her characters, and as a by-product, her readers!
I'm not going into specific detail about what happens in Heir of Fire, but I have to say that I thought it was an excellent continuation after the events in Crown of Midnight. I LOVE that every little piece of information that's revealed is linked to something in the previous books. Everything has a purpose, everything is interlinked seamlessly, and it's so captivating seeing it all slowly unfold.
While I'm writing this review, I'm trying to pin-point what is my favourite thing about the Throne of Glass series. I think of the characters… and each one is phenomenal! Then, I think of the world-building, and… it's breath-taking! I'm finding it so hard to say that 'this one thing' is why I love this series so much. Seriously, it's a combination of EVERYTHING that makes it epic. It's seamless. The characters bring the story to life, the world-building enhances and shapes everything that happens to the characters, and the plot tortures everyone and everything! The balance between all these elements is simply incredible.
If I HAVE to pick one 'favourite' thing, it's the characters. Each one is so complex: they represent so many different traits, and they're all believably portrayed. The King of Adarlan, for example, is absolutely terrifying – he's one of those rare villains that you can sense is a credible threat to each and every character in the book. And not just the characters that we get to know through the course of the series, but all the unnamed characters and citizens both in Adarlan and in the neighbouring countries.
Heir of Fire introduces us to lots of new characters, and I loved what they brought to the story. The witches in general were a brilliant addition, but Manon in particular was such an intriguing character! And, oh my gosh, Abraxos! I loved his story, and the bond that developed between him and Manon. I know there is a lot of love around for Rowan, but… I wasn't too sure of him. He got on my wrong side pretty quickly if I'm honest. It wasn't until very near the end of the book that he began to redeem himself a little. I'd be deliriously happy if the relationship between Celaena and Rowan remains a friendship and completely platonic – similar to Roar and Aria's friendship from the Under the Never Sky trilogy.
I have a completely unwavering love for Celaena, Chaol and Dorian. I love their dynamic together, and I love each of them individually. I LOVED learning more about Celaena, and her back story in Heir of Fire. I was wondering what happened to her as a child, and it's awesome to finally see a little bit of what shaped her into the woman she is today. Dorian continues to have a tough time, and I feel that things have come to a breaking point for him. But Chaol… *sigh* Oh Celaena! Wake up girl! Get your big-girl britches on and cut him a little slack! I don't even mind if you let him grovel and beg for forgiveness for the next thirty years, I'm not pushy, but give him a second chance! Pretty please ;-) (Yes, I firmly ship Chaolaena!)
I wasn't expecting to really 'click' with yet another character from the series, but… Aedion! His character was briefly introduced in Crown of Midnight, but we get to meet him properly in Heir of Fire. Oh my gosh, I really liked him right from his entrance into the King's court! I can't really put my finger on why I clicked with him almost instantly - maybe it's because he reminds me of a male version of Celaena? I'm really hoping things work out… fine… for him. (Sorry I have to be so vague, but I don't want to spoil things!) This shall be hard… but I'm really hoping for a certain reunion, if you catch my drift!
The endings in this series are incredible! The amount of emotions you go through within a few dozen pages is unbelievable. I'm too scared to imagine how the remaining three books will pan out. If the first three are any indication, this will NOT be a smooth ride, and holy crap I'm anxious, excited and terrified to see what will happen next!