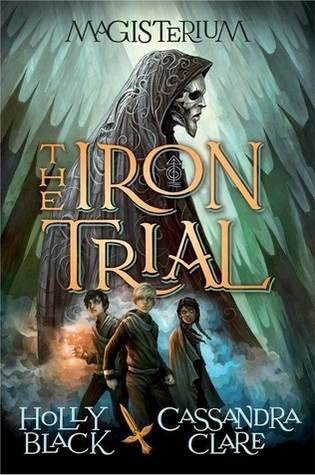 Title: The Iron Trial
Authors: Cassandra Clare
and Holly Black
Series: Magisterium, #1
Format: eARC, via Netgalley
from the publishers. (Thank you!)
My rating: 1.5 / 5

Most kids would do anything to pass the Iron Trial.

Not Callum Hunt. He wants to fail.

All his life, Call has been warned by his father to stay away from magic. If he succeeds at the Iron Trial and is admitted into the Magisterium, he is sure it can only mean bad things for him.

So he tries his best to do his worst - and fails at failing.

Now the Magisterium awaits him. It's a place that's both sensational and sinister, with dark ties to his past and a twisty path to his future.

The Iron Trial is just the beginning, for the biggest test is still to come . . .


-- As seen on Goodreads
My Thoughts
I guess I'm the perfect person to read this book. When I read The Iron Trial, I had only read one Harry Potter book. Odds are I won't see any similarities, right?
Erm… well… wrong.
There are hundreds of thousands of people way more knowledgeable about the Harry Potter world than I am, and they'd be able to draw up a minute list of the similarities. But even I with my fledgling Harry Potterite status can draw too many parallels between the two books. The Iron Trial left me feeling very uncomfortable, and I guess that's my main problem with it. Similar ideas are one thing, but when the actual vibe of a book has the same familiarity, I get very antsy and I can't let go and be swept away with the story.
The writing style was very stop-and-start, fast-and-slow. Things would be zipping along nicely, I'd be starting to enjoy the book when all of a sudden the writing style would shift, and it became slow, boring and annoying. In these moments, the dialogue felt very disjointed and inconsistent – honestly, these characters are twelve years old, and at times it felt like they'd eaten Thesaurus Flakes for breakfast, and it kind of felt far too formal and pretentious for my tastes. To make it weirder, a couple of chapters later they'd seem like regular twelve year olds again!
Unfortunately, I didn't like the characters either. I don't feel like I got to know any of them properly. We have Callum as the main character, with Tamara and Aaron as his friends. It felt like each character name was assigned a place holder as "MC" and "Friend 1" and "Friend 2", but they didn't feel 'real' to me – they didn't have that depth of character I love seeing. I didn't feel any connection, and I'm not invested in what happens to them.
I think I got off on the wrong foot with The Iron Trial, and while there were a few really good moments – the ending was really good, even though I could kind of see where the book was going – the writing style, pacing and not connecting with the characters ended up preventing me from really liking and connecting with the book. Would I recommend it? I think it'll depend on what you're looking for. If you're curious about the book, definitely give it a shot!