Remember those Cadbury selection boxes that were guaranteed to be under the tree on Christmas morning when we were kids? Those Curly Wurly's? Ooohh, so much YUM!
Well, unfortunately, I don't have any Curly Wurly's to give, but I do have a couple of novella mini-reviews, and my very poor attempt to review Crown of Midnight!
The Calm Before
Title: The Calm Before
Author: Jules Hedger
Series: Reign and Ruin, #0.5
Format: eBook, kindly provided by
the author. (Thanks Jules!)
My rating: 4 / 5

Three men. One girl. The stage is set for the storm to hit.

Maggie's story did not begin with a fall into Palet. Before she gave up her life on Earth to enter the Reign Walk, her fate was long decided by three points of a triangle: Marty, Cirrus and Lucan.

In this special Reign and Ruin novella, spend time with the men of the Wilds in their final moments before the Daughter of Palet entered the room and changed their lives forever.


-- As seen on Goodreads
My Thoughts
I really enjoyed The Calm Before! It's a prequel novella in the Reign and Ruin series that could be read before or after The Wilds. My personal recommendation would be reading it after The Wilds, as it gives a great insight into the three guys – Cirrus, Marty and Lucan's – minds. I loved seeing more of Marty's past with Maggie's Uncle, and Lucan will always be my preferred choice out of the guys ;)
We get a lot more information about the world of Palet, and things from The Wilds become a lot clearer. I know some people tend to skip over novellas, but I have to say The Calm Before is a must read if you've read The Wilds!
Crown of Midnight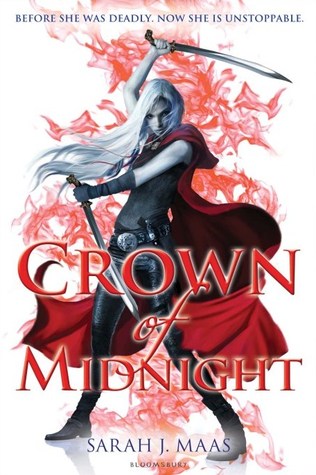 Title: Crown of Midnight
Author: Sarah J. Maas
Series: Throne of Glass, #2
Format: Paperback, owned
My rating: 5+ / 5

Crowned by Evil.
Bound by Duty.
Divided by Love.

Celaena Sardothien, royal assassin, is the King of Adarlan's deadliest weapon. She must win her freedom through his enemies' blood - but she cannot bear to kill for the crown. And every death Celaena fakes, every lie she tells, put those she loves at risk.

Torn between her two protectors - a captain and a prince - and battling a dark force far greater than the king, Celaena must decide what she will fight for: her liberty, her heart or the fate of a kingdom...



-- As seen on Goodreads
My Thoughts
Oh boy, Crown of Midnight took every emotion I experienced in Throne of Glass, tortured them, and then tore them to shreds! THIS is the Fantasy genre at its finest, as far as I'm concerned! I've tried so many times to write a full review for CoM and it's not happening – I'm just a bundle of emotions that can't be put into words that make any sort of sense!
Seriously, I went from this:
To this:
To this:
And then back to this!
Holy crap, it was EPICNESS! All the characters grew so much over the course of two books. Dorian changed so much, and I ended up loving him as the book went along. But, both Celaena and Chaol are my two favourite characters from the series. The first half of the book, I was so HAPPY, but the second I was kind of devastated! I'm still holding out hope for my good ship Chaolaena. IT WILL HAPPEN, PEOPLE!
And that ending!? Holy crap! I had a hunch about what would happen, but it definitely didn't occur the way I thought it would. It sneaks up on you, and takes you by surprise!
Yep. Just like that.
I'm kicking myself that I didn't start these books so much sooner; I missed out on so much awesomeness. If you haven't started this series yet – YOU MUST! I promise, I don't think you'll regret it!
Challenging Zed
Title: Challenging Zed
Author: Joss Stirling
Series: Benedicts, #1.5
Format: Kindle Freebie
My rating: 2.5 / 5

Want to know what Zed Benedict was thinking when he met his soulmate Sky Bright for the first time? Find out for FREE in this compelling short story.

The Benedict brothers all have different abilities and powers. One can move things with his mind, another can heal. Zed Benedict is the youngest and the most powerful of the seven brothers and he is on the road to destruction until he meets his soulmate, Sky Bright. She is his balance, the light to his dark. Together they are even more powerful. Zed knows that they are meant to be together and that there is a connection that cannot be denied. But how can he convince Sky that their destinies are entwined when she doesn't even realize the true nature of her potential? A brilliant addition to the Finding Sky series for both new and old fans alike.


-- As seen on Goodreads
My Thoughts
There really isn't a whole lot I can say about Challenging Zed. It's a novella written in Zed's POV, and it reads like a summary of first third of Finding Sky. I read the first book in the series over a year ago, and it definitely helped jog my memory of what actually happened in the book! But… I didn't really see anything terribly new or insightful about Zed. While it's nice to get the chance to see inside his head, everything that's revealed would be easily guessed at anyway. One thing I did like was the flash-back scene to when he was nine. It helped cement more of the family dynamic between the brother and their parents, and gives a glimpse at the other brother's personalities. Overall, it's a good novella, and a great read for fans of the series.
Thanks for reading!