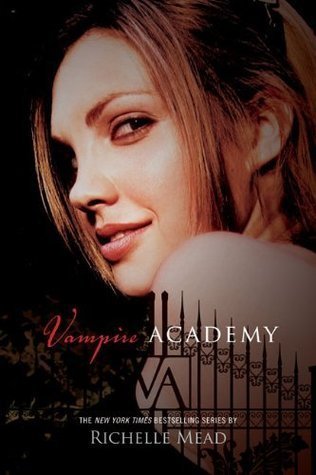 Title: Vampire Academy
Author: Richelle Mead
Series: Vampire Academy, #1
Format: Paperback, owned
My rating: 4 / 5

ONLY A TRUE BEST FRIEND CAN PROTECT YOU FROM YOUR IMMORTAL ENEMIES…

Lissa Dragomir is a Moroi princess: a mortal vampire with a rare gift for harnessing the earth's magic. She must be protected at all times from Strigoi; the fiercest vampires—the ones who never die. The powerful blend of human and vampire blood that flows through Rose Hathaway, Lissa's best friend, makes her a dhampir. Rose is dedicated to a dangerous life of protecting Lissa from the Strigoi, who are hell-bent on making Lissa one of them.

After two years of freedom, Rose and Lissa are caught and dragged back to St. Vladimir's Academy, a school for vampire royalty and their guardians-to-be, hidden in the deep forests of Montana. But inside the iron gates, life is even more fraught with danger…and the Strigoi are always close by.

Rose and Lissa must navigate their dangerous world, confront the temptations of forbidden love, and never once let their guard down, lest the evil undead make Lissa one of them forever…

-- As seen on Goodreads
My Thoughts
I've known about the Vampire Academy series for a long time, but, being honest, I had little desire to read it before I joined the book blogging community. When I saw the overwhelming amount of love for the books, I reconsidered and decided to give it a shot. I mean, what's the worst that could happen, right? Now that I've finished it, I can see why so many love it, and I genuinely do wish I'd read the series long before now!
The first thing I have to mention is Rose. I kind of despised her for the majority of the book. If she was a real person, I'd be able to tolerate her for a maximum of five minutes before she'd do my head in, and I'd run away screaming. Yeah… not the best reaction to have toward the main character in a beloved series, is it? What surprised me the most was how much her attitude grew and evolved in a relatively short book, and toward the final quarter of the story I found myself starting to understanding why she behaves the way she does, and I began to like and root for her. I've done almost a complete 180 in my opinion, and this was a lovely unexpected surprise as my opinions tend to get set in stone pretty quickly. I can't wait to read more of her story, and to see how she continues to grow and develop as a character.
Easily my favourite part of the book was the vampire lore and ethos that was created. It was a refreshing take as vampires in general have started to become a little jaded over recent years in YA. (Again, this cements in my mind that I should have read this series YEARS ago!) Combining this with the world building and the writing style, I was captivated by the story within a few dozen pages, and craving to know more about the vampire and damphir society. It was this combination that kept me glued to the pages despite not initially liking the main character. It feels like we've only begun to scratch the surface of the world-building, which is really awesome, and I'm really curious to see where things will go in future books.
Overall, I thoroughly enjoyed reading Vampire Academy, and I encourage anyone that's been on the fence about trying the series to give it a go. I can only imagine the books will get better as the series progresses, and I personally can't wait to see what happens next.