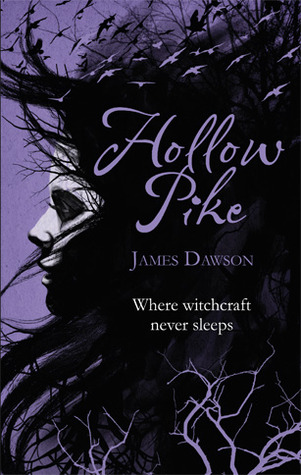 Title: Hollow Pike
Author: James Dawson
Series: Standalone
Format: Paperback, owned
My rating: 4 / 5

Something wicked this way comes...

She thought she'd be safe in the country, but you can't escape your own nightmares, and Lis London dreams repeatedly that someone is trying to kill her. Lis thinks she's being paranoid - after all who would want to murder her? She doesn't believe in the local legends of witchcraft. She doesn't believe that anything bad will really happen to her. You never do, do you? Not until you're alone in the woods, after dark - and a twig snaps... Hollow Pike - where witchcraft never sleeps.

-- As seen on Goodreads
My Thoughts
Earlier on this year I read and loved one of James Dawson's more recent releases, Say Her Name, and as I had Hollow Pike on my to-read list for a long time, I thought it was about time I gave it a go. I'm so, so, so glad I did, and I really wish I'd read it sooner! Set in North Yorkshire, Lis London, our main character, moves in with her sister and brother-in-law to have a fresh start after severe bullying forced her to leave her previous school in Wales. The story starts off with a fairly strong contemporary feel, but things slowly begin to turn more sinister and creepy.
I was wrapped up in the story straight away, and it was the exact book that I needed to read to shake me out of the reading slump I've been struggling through over the past few months. I flew through the pages, the storytelling and writing style was so absorbing and I couldn't wait to find out what happened in the next chapter. Sometimes I find male authors writing styles and I don't mix that well, but I have to say that James Dawson is one of the few that I've completely clicked with. Comparing both books of his that I've read, I can see how much he's grown as a writer and storyteller, and after reading Hollow Pike it's left me wanting to read even more of his works.
I really liked all the characters, and despite not having one real favourite, it was so great to see such a varied and diverse cast of characters and personalities throughout the story. The friendships Lis forms in her new school was easily my favourite part of the book. There is a touch of romance as well, but for me, the awesome friendships overshadowed it by a mile. It's not very often that friendship trumps romance in YA, and I really wish this trend would catch on!
The witch elements are slowly woven into the story, and it's only toward the second half of the book that they come into full focus. I loved that this gave the characters a chance to become established before the paranormal and thriller themes kicked in. The ending was absolutely fabulous, and I loved being kept in the dark for so long. The tension was slowly ramped up throughout, and when things began to kick off I hadn't a clue what to expect, and it was oh so awesome!
Overall, Hollow Pike was a fantastic read and a brilliant debut novel. It tackled bullying in a truthful, raw and honest way, and with a fabulous cast of characters, it'll be a book I won't forget for a long time to come.