You know those times where you don't have a whole lot to say about a book, but you want to talk about it anyway? That's what I hope to do today! I have three mini-reviews of books I read over the past couple of months, but couldn't come up with a 'full' review length review. Hope you like them!
The Dead Girls' Dance by Rachel Caine
Title: The Dead Girls' Dance
Author: Rachel Caine
Series: The Morganville Vampires, #2
Format: Paperback, owned
My rating: 4 / 5

Claire has her share of challenges. Like being a genius in a school that favours beauty over brains; homicidal girls in her dorm, and finding out that her college town is overrun with the living dead.

On the up side, she has a new boyfriend with a vampire-hunting dad. But when a local fraternity throws the Dead Girls' Dance, hell is really going to break loose.



-- As seen on Goodreads
My Thoughts
The Dead Girls' Dance is the second book in The Morganville Vampires series, and I enjoyed it a lot more than the first book. I wasn't overly convinced about the series after I read Glass Houses. I didn't feel I 'got' the characters at that point, and I'm so glad I decided to continue on with the next book. I felt the plot was more intense, and I loved both the pacing and the writing style. I love being swept away by a good story, and the pages flew by without me realising. Claire's character really grew on me, and I really liked seeing her relationship slowly grow with Shane. I'm still a bit skeptical of her being sixteen, though… I loved seeing all the characters develop quite a bit over the course of the book, and I'm really curious to see how their stories develop.
Where the Road Takes Me by Jay McLean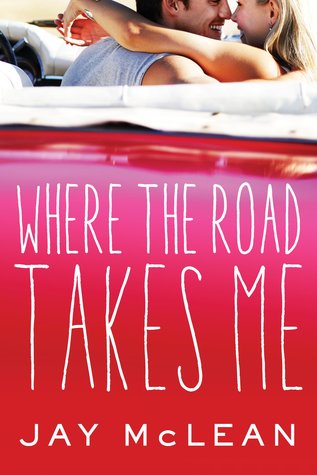 Title: Where the Road Takes Me
Author: Jay McLean
Format: eARC from the publisher, via
Netgalley. Thank you!
My rating: DNF

Chloe has one plan for the future, and one plan only: the road. She's made a promise to herself: don't let anyone in, and don't let anyone love her. She's learned the hard way what happens if she breaks her rules. So she's focused on being invisible and waiting until she can set out on the road—her dream of freedom, at least for a little while.

Blake Hunter is a basketball star who has it all—everything about him looks perfect to those on the other side of his protective walls. He can't let anyone see the shattered pieces behind the flawless facade or else all his hopes and dreams will disappear.

One dark night throws Chloe and Blake together, changing everything for Blake. For Chloe, nothing changes: she has the road, and she's focused on it. But when the so-called perfect boy starts to notice the invisible girl, they discover that sometimes with love, no one knows where the road may lead.


-- As seen on Goodreads
My Thoughts
DNF @ 23%
I just couldn't do it. I struggled from the first couple of pages, and it was an effort to make it past the 20% mark. The synopsis completely sold me and I loved the concept of Where the Road Takes Me, and I thought it sounded like a perfect bookish match for me. Unfortunately, it didn't turn out that way. I hated the characters, and for a character focused reader this is the ultimate kiss of death. What do I have to root for when I don't like the people I'm reading about?! The writing style didn't work for me, either. The plot turned out to be too clichéd, and the writing style emphasised this, rather than disguising it. I couldn't take it anymore, and I think it's best to walk away BEFORE I end up completely hating the book. Maybe it turns around later on, but I'm not invested enough in the story to find out.
*I received an ARC via Netgalley in exchange for an honest review.*
Love, In Spanish by Karina Halle
Title: Love, In Spanish
Author: Karina Halle
Series: Love, In English, #2
Format: Kindle
My rating: 4 / 5

"She sat beside me on the bus – and she changed my whole life."

Successful, wealthy and absurdly handsome – Spanish ex-football player Mateo Casalles seemed like he had it all. A high-society wife, an adorable little girl, and flashy apartments in Madrid and Barcelona only sweetened the deal. But there was more to Mateo than met the eye – a life of uncertainty and regret that colored his black and white world.

That was until Vera Miles came into his life like a shooting star. Tattooed, wild and young, Vera seemed like Mateo's polar opposite at first. But you can't choose who you fall in love with and the two lost souls did everything they could to be together, all while suffering the grave consequences.

Now with Mateo divorced and living in Madrid with Vera, there is a whole new set of challenges and setbacks facing the couple and rocking the foundation of their star-crossed relationship.

Unfortunately for them, the brighter the star, the faster they burn.



-- As seen on Goodreads
My Thoughts
Love, In English was one of my favourite books in 2014, and Love, In Spanish is the companion novel following the same characters. This time the story is told from Mateo's perspective, and I really enjoyed seeing inside his head. It's NOT a repeat of the first book though, it continues on shortly after that book ends. Vera and Mateo didn't have an easy time of it in LIE, and they have an even harder time here. They get put through the mill, and their relationship is pushed to the very limits. I loved seeing their journey continue on, and how supportive they've become of each other.
I was expecting to give this book a 5 star rating... but I didn't quite connect with Mateo's POV as much as I did with Vera. I was an emotional wreck at times while I was reading LIE, and it's hard to replicate that again with a companion book. Now, for the little negative: I'm a BIG football fan… and I just don't understand why Mateo is pestered into being the head coach of Atletico Madrid. Just because you were a great footballer player, doesn't automatically mean you'll be a great coach or manager… but I'm not going to get into that argument, I'll be here all day! Overall, I really enjoyed Love, In Spanish, and I loved continuing on with Vera and Mateo's story.
Thanks for reading!