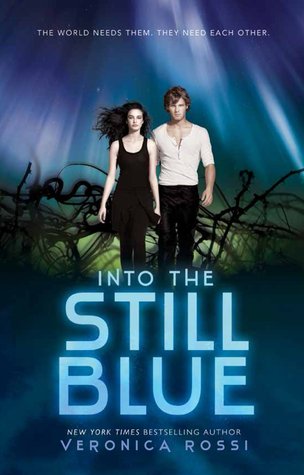 Title: Into the Still Blue
Author: Veronica Rossi
Series: Under the Never Sky, #3
Format: Paperback, owned
My rating: 5 / 5

The race to the Still Blue has reached a stalemate. Aria and Perry are determined to find this last safe haven from the Aether storms before Sable and Hess do—and they are just as determined to stay together.

Within the confines of a cave they're using as a makeshift refuge, they struggle to reconcile their people, Dwellers and Outsiders, who are united only in their hatred of their desperate situation. Meanwhile, time is running out to rescue Cinder, who was abducted by Hess and Sable for his unique abilities. Then Roar arrives in a grief-stricken fury, endangering all with his need for revenge.

Out of options, Perry and Aria assemble an unlikely team for an impossible rescue mission. Cinder isn't just the key to unlocking the Still Blue and their only hope for survival--he's also their friend. And in a dying world, the bonds between people are what matter most.

In this final book in her earth-shattering Under the Never Sky trilogy, Veronica Rossi raises the stakes to their absolute limit and brings her epic love story to an unforgettable close.



-- As seen on Goodreads
My Thoughts
I hate this moment: when you have to say goodbye to a series that you love. Yes, you can re-read, but it's never quite the same. I had VERY high expectations for Into the Still Blue. Under the Never Sky and Through the Ever Night are such strong books, and I don't think I've found a trilogy where all three equal each other. Did Into the Sill Blue manage it? I hesitantly say yes. Were my expectations met? Yes and no.
If you take Into the Still Blue by itself, and compare it with some other trilogies, it would easily be the strongest edition of the three. Within this trilogy, however, it's probably the weakest – and I can't believe I have to say that about a 5 star worthy read! Don't take this as a negative, it's far from it. The first two were just that awesome, Into the Still Blue didn't quite deliver on all the levels that the previous ones did.
From the title alone, you can probably read between the lines and have a fair idea of what happens in the book. I think those of us that read the series knew this already, it's just the way the trilogy was naturally building as a collective. The important part is the actual journey that takes place, not the destination. It's a pretty rocky trip at that, with a lot of heartache and hard decisions. Perry and Cinder's relationship and what ultimately happens was such a strong thread within the story.
I absolutely love both Perry and Roar. They are the reasons I was hooked from the beginning right to the end. If I have to point out a weak link, it was Aria. She wasn't presented as well here. The same spark that I liked in book one and two wasn't as apparent. I'm not sure if Roar and Perry just simply overshadowed her, or she just couldn't match up. Maybe it's a little of both.
I love Aria and Perry together, and I love Aria and Roar together, but on her own, I didn't think her story was as poignant or as necessary as the boys. When the focus was just on her, I didn't feel her storyline blended in with the whole as well it could have done. I was expecting more interaction between her and the Dwellers, but that wasn't addressed at all, albeit briefly. And here ends my criticism of the book…
This is huge point I want to make, not just for Into the Still Blue, but for the series as a whole. It's BRILLIANT to see a well-crafted platonic friendship between a male and a female character! Roar doesn't have the easiest time in the trilogy, yet his story and presence matches, if not exceeds the romantic relationship between Aria and Perry. I'm so happy that Rossi didn't go down the typical love-triangle route. Aria can depend on Roar, and he on her, without the worry of them falling in love and yada yada yada, drama ensues. This is what makes the series stand out for me, and why I love it so much: Rossi isn't afraid to avoid the usual repetitive plots that other YA books seem to thrive on. I love it!
The conclusion to a beloved series is always a sad moment. Over the course of three books, I've been introduced to three fantastic characters, who have become all-time favourites. I love Perry, Roar and Aria and it's been such a wonderful journey watching over their shoulders, rooting for each of them along the way. *Whispers to Veronica Rossi* I wouldn't mind reading a series starring Roar… just a little suggestion ;)