This week, I'm waiting on...
The Beauty of Darkness
by Mary E. Pearson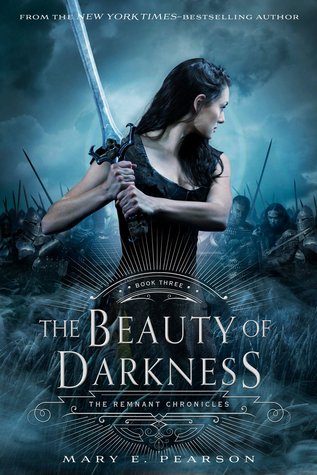 Expected publication: 2nd August 2016
Genres: Fantasy; Young Adult
Lia and Rafe have escaped Venda and the path before them is winding and dangerous - what will happen now? This third and final book in The Remnant Chronicles is not to be missed.

Bestselling author Mary E. Pearson's combination of intrigue, suspense, romance and action make this a riveting page turner for teens.
Holy vague synopsis, Batman. Well, regardless, there is very little to say beyond I need. This book. Right NOW! I can't take not knowing how the series will end!
Right. Okay. Here's the thing. The cover. I've found two different covers with different people in the backgrounds. Have a look at this: the cover on Mary Pearson's website is different than the Goodreads version… Looking at the other cover for a second, is it just me, or could that be Kaden on the left, and Rafe on the right, under Lia's left elbow?? Well, if that is Rafe, he's been moved in the Goodreads cover, and the short-haired-maybe-Kaden-like person has been removed. (Humph. I don't like this. My Kaden needs to make it out of this series in perfect health, mmkay?) Also, look at the army… the combination of fully armoured soldiers and Vendan-attired soldiers are in one cover, but the Vendan soldiers being removed in the other has thrown up WAY too many questions! Also, there's something about the cover models pose that got me thinking: Is she facing the army to attack … or is she leading them? GAAHHH! This is killing me! I need to KNOW!! August, you need to hurry up and get here. Right NOW!
Am I reading way too much into all this!? What do you think, dnd have you read the first two books in the trilogy yet? What did you think of them? Thanks for stopping by, and Happy Reading!
* Waiting On Wednesday is a weekly event, hosted by Breaking the Spine, that spotlights upcoming releases that we're eagerly anticipating. *